Taylor Swift's 'Reputation' Will Be The Biggest Album of The Year
Look what Taylor made us do.
---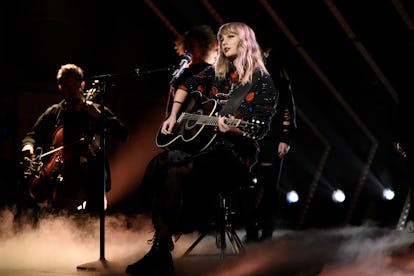 Photo by: Will Heath/NBC/NBCU Photo Bank via Getty Images
Reputation is going to be the best-selling album of 2017. Deal with it. Variety reports that Taylor Swift's sixth studio album sold 1.28 million copies in its first week of release, putting it on track to be the biggest album of the year, especially if it gets the expected holiday bump.
Swift always releases her albums in the Fall because she knows that she can ride the Christmas wave for more album sales, something only a few artists can do in the single-dominated streaming era. In fact, Swift and her label, Big Machine Records, kept the album off streaming platforms like Spotify for the first week of its release for exactly this reason: to drive up sales. If you wanted to listed to Reputation in toto before last Friday, you had to either buy it in full on iTunes, grab a physical copy from Target, or tune into iHeartRadio. The strategy apparently paid off handsomely; according to the article, "total consumption, which includes audio streams for Reputation tracks over the last seven days, [is] closer to 1.29 million."
Reputation's debut had something of a rocky rollout followed by a positive reception. The four singles released before the rest of the album — "Look What You Made Me Do," "…Ready For It?" "Gorgeous and "Call It What You Want" got a mixed reaction, but when reputation dropped on November 10 it was praised by critics. Taylor did a two-song set on SNL; the first was fine but her dancing was awkward, while her second, acoustic performance was Classic Taylor. Then she made Jimmy Fallon cry by singing "New Year's Day" shortly after the death of his mother. Now, the verdict is in: Taylor is back on top. Ready for it?
Related: Taylor Swift Made a Surprise Appearance on The Tonight Show for Jimmy Fallon's First Show Following the Death of His Mother
Nashville, Country Music's Capital City, Is More Than Just Master of None and Taylor Swift
Karlie Kloss (in Elie Saab) and Kelsea Ballerini (in custom Michael Kors) backstage at the CMA Awards in Nashville, Tennessee, November 2017.
Keith Urban and Nicole Kidman, Aussie transplants in Nashville, go out for "date night," as Urban captioned this image, September 2017.

@keithurban
Models Karen Elson and Lily Aldridge in Nashville, Tennessee, October 2017. "When Lily and I had a band (in my head)," Elson captioned.

@misskarenelson
Kacey Musgraves married fellow musician Ruston Kelly in a picture-perfect forest ceremony outside Nashville, Tennessee, October 2017.

@spaceykacey
Julien Baker has moved between Nashville and Memphis, Tennessee since her breakout debut album Sprained Ankle came out in 2015. Here, she plays Marathon Music Works with Frightened Rabbit, September 2016.

@julienrbaker
Carrie Underwood prepares to host the CMA Awards with Brad Paisley in Nashville, Tennessee, November 2017.

@carrieunderwood
Karen Elson plays at a gathering organized by former Rilo Kiley frontwoman Jenny Lewis in Nashville, Tennessee, August 2017.

@misskarenelson
P!nk enjoys an IPA after the CMA Awards in Nashville, Tennessee, November 2017.

@pink
Faith Hill (in Giorgio Armani) and Tim McGraw (in Tom Ford) at the CMA Awards in Nashville, Tennessee, November 2017.

@faithhill
Kacey Musgraves at home shortly after her living and dining rooms were redecorated by Elsie Larson of A Beautiful Mess in Nashville, Tennessee, January 2017.

@abeautifulmess
Musicians Dan + Shay with fellow singer-songwriter Lauren Alaina Suddeth at the CMA Awards in Nashville, Tennessee, November 2017.

@danandshay
Niall Horan's guitarist Jake Curran takes his seat next to Musician of the Year winner Mac McAnally at the Country Music Association Awards in Nashville, Tennessee, November 2017.

@jakecurranguitar
Miranda Lambert was photobombed by Faith Hill at the BMI Awards in Nashville, Tennessee, November 2017.

@mirandalambert