Taylor Swift Teases Fourth Single, "Call It What You Want," Off Upcoming Reputation Album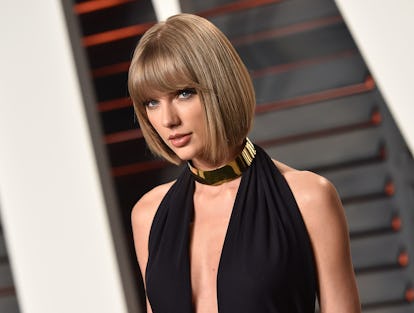 John Shearer/Getty Images
A new Reputation single is on the way. Taylor Swift took to Instagram on Thursday morning to announce what seems to be the release of yet another new track ahead of her upcoming album drop.
Though the posts to her account were characteristically vague, it carries all the trademarks of a Taylor Swift single announcement: The singer uploaded a series of three photos back-to-back, each with the caption, "Call It What You Want. Midnight Eastern." While one of the pictures features the song's apparent title handwritten in red pen — we'll wait while super fans deep dive into the meaning of the pen's color, a signature for Taylor — the others feature probable lyrics: "But would you run away with me' … 'Yes,'" and "Holding my breath / Slowly I said / 'You don't need to save me…" We're already weeping.
"Call It What You Want," which apparently will hit music streams everywhere in a matter of hours, is in line to be the fourth single of Swift's Reputation album. The singer has announced previous singles "Look What You Made Me Do," "…Ready For It?" and "Gorgeous," along with videos for the former two, in uniform fashion via Instagram since August. She's also shared behind-the-scenes glimpses into both the makings of the "LWYMMD" video and her own mysterious songwriting process on the platform.
Swifties, we'll see you at midnight EST.
Related: A Guide To All Of the Sci-Fi References In Taylor Swift's "…Ready For It?" Video
Watch: Gigi Hadid Only Gets Starstruck for Kobe Bryant