Taylor Swift Announces Music Video for "…Ready For It?"
The old Taylor's been replaced by a replicant.
---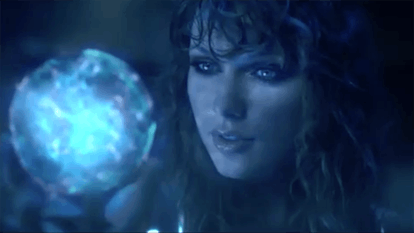 taylorswift/Instagram
First Taylor Swift ripped off Michael Jackson's "Thriller" (among many other references), and now she might be making her own version of Blade Runner 2049. Swift just announced the premiere date for the "…Ready For It?" music video, in which she appears to be playing none other than a villainous replicant, like the one in the new Blade Runner.
Taylor broke the news Monday morning on Instagram in the form of a teaser video. Aside from mentioning that we can expect it to drop some time Thursday night, October 26, she doesn't give us any other details in the video's caption. The dramatic clips show her menacing the streets of a gritty cyberpunk metropolis: One second she's strutting down the alleyways in a creepy-looking cloak, the next she's gathering her supervillain powers in a glowing orb crackling with electricity. The plot appears to follow Evil Cyborg Taylor using said orb to destroy masked futuristic policemen, mostly while being naked.
The super short teaser clocks in at less than 15 seconds, so you'll have to rely on screen-caps gathered by eagle-eyed Swifties for more clues. From the few clips we're shown, it looks like Taylor's new video will be a darker sequel to the New Taylor origin story that we saw in "Look What You Made Me Do." Once again she's kicking butt and taking names, and there doesn't seem like she'll have time to do much besides descend further into her serpentine rebranding. That said, "…Ready For It?" is a love song about two heartbreakers playing mind games with each other, so maybe there's something more romantic in store than the revenge thriller it appears to be. A lot of fans think the mystery man in question is Harry Styles, so will a replicant Harry (or rumored boyfriend Joe Alwyn) lookalike make a surprise appearance?
The music video announcement comes just days after the singer released her newest single "Gorgeous" and just a few weeks before the release of her album, Reputation.
Blade Runner 2049 star Jared Leto's Robert De Niro impression: