Taylor Swift Soaked in Over $10 Million Worth of Diamonds for 'Look What You Made Me Do' Video
At least one thing about her isn't fake.
---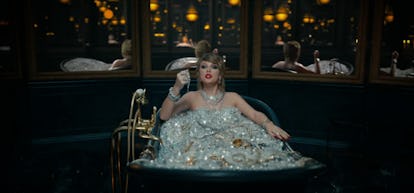 Taylor Swift
Out of all of the Easter eggs and scenes in the new video for Taylor Swift's comeback single "Look What You Made Me Do," the shiniest one may be the most controversial. After Swift premiered the video on the eve of the 2017 VMAs, viewers quickly latched onto the scene where the country star gone pop bathes in a tub full of diamonds. Initially, that was because some speculated that the scene may be a thinly veiled reference to Kim Kardashian's traumatic Paris robbery. These viewers found too many similarities to dismiss. Not only because the reality TV mogul was reportedly put in a bathtub as she was robbed at gunpoint of her jewelry and hefty diamond engagement ring but also because, in the divisive scene, Swift sings from her own bath: "I don't like your perfect crime / How you laugh when you lie / You said the gun was mine / Isn't cool, no, I don't like you." Plus, there's also the fact that the song was a blatant diss track aimed at Kardashian and her husband Kanye West. Now, however, there is a whole new reason to hate-watch the video, which has since broken the record for most views within 24 hours, raking in a whopping 43.2 million. Namely, Swift used actual diamonds in the scene.
The diamonds, which came courtesy of jeweler Neil Lane, reportedly cost over $10 million. For the rest of the world who couldn't dream of casually soaking in over $10 million worth of diamonds, the look isn't too hard to recreate. Swift made it extra easy, in fact, as she's currently selling platinum-plated and 24-karat gold recreations of the ring for $60 on her website.
Revisit the look below, and then read up on all of the other subtleties you may have missed in the video.
Watch: Model Irina Shayk Cries at a Lot of Movies, But Not 'Magic Mike'