Taylor Swift Made a Surprise Appearance on The Tonight Show for Jimmy Fallon's First Show Following the Death of His Mother
The song held special meaning for host Jimmy Fallon.
---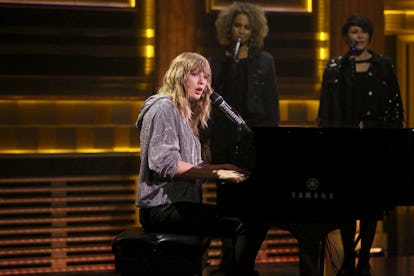 NBC
Like her or not, Taylor Swift's ultra-confessional song lyrics have a way of cutting right to your core. "New Year's Day," the final song on her new album Reputation, is no exception. Swift showed up at The Tonight Show on Monday night for a special performance of the song in honor of host Jimmy Fallon's first episode back after his mother's death, and ended up bringing Fallon to tears with her uncannily spot-on lyrics.
The pop star gave a low-key performance of the quietest song on her album while wearing a sparkly silver sweatshirt and black pants. Accompanying herself on the piano and backed only by a handful of vocalists shrouded in darkness at the back of the stage, Swift sang her sweet ode to a partner who hangs out with you at the New Year's Eve party and stays to help you clean up the next morning. As soon as she played the last note—and gave the audience a small smile—Swift jumped off the piano bench and across the stage to give a teary-eyed Fallon a huge hug.
Earlier in the show, Fallon had paid a heartfelt tribute to his late mother, during which he explained how, throughout his life, he and his mom would squeeze each other's hands three times while saying "I love you." Through tears, Jimmy said in his opening monologue in tribute to his mom, "Last week I was in the hospital, and I grabbed her hand and I squeezed 'I love you.' I just knew we were in trouble."
In a Twitter thread posted after the episode aired, Tonight Show writer Mike DiCenzo explained why Fallon had such an emotional connection to the song. "He hadn't told any of us that story," DiCenzo wrote, before noting that although Swift wasn't scheduled to perform on Monday's show, she agreed with "zero hesitation" when they called her at the last minute. "She sang 'New Year's Day.' No one had heard it. Suddenly she sings the line, 'Squeeze my hand three times in the back of the taxi.' I nearly gasped. Tears. I think everyone in the audience started sobbing," DiCenzo continued. "I could see Jimmy silhouetted at his desk dabbing his eyes with a tissue. We all lost it. It was a beautiful coincidence in a beautiful performance. 'Hold on to your memories, they will hold on to you,' Taylor sang."
DiCenzo added, "That hug between Jimmy and Taylor after the song was 100 percent real emotion. Whatever you think of Taylor, she did something beautiful for Jimmy and our show today, and we're forever grateful."
Related: Taylor Swift's Reputation Is Actually Two Albums: A Loving Hug For Her Swiftie Base, and Vengeance on Everyone Else
Lion Babe's Jillian Hervey Has Made Her Mom Vanessa Williams' Silver Sequined Leotard Her Own