Taylor Swift's Reputation Is Actually Two Albums: A Loving Hug For Her Swiftie Base, and Vengeance on Everyone Else
There are two albums in Reputation—one is a loving hug for her Swifty Base, the other is vengeance on everyone else.
---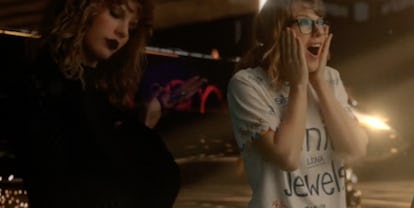 If we're to take Taylor Swift at her word, she's a new woman now. "I'm sorry, the old Taylor can't come to the phone right now—because she's dead!" So goes the lyric from "Look What You Made Me Do," the lead single from her new album Reputation, which Swift has appointed the thesis statement of this new Taylor era.
In some ways, it works. It's a good line, delivered with panache, a memorable moment in a corny song. It's also an apt description of the scorched-earth strategy Swift employed to clear the way for Reputation. After a busy two or so years of profligate posting on social media—and after she was thoroughly ethered by Kim Kardashian—she scrubbed her accounts clean. She stayed quiet for months. And when she was ready, Swift re-emerged with a new album, a new aesthetic, and, most notably, a new carapace, angled firmly in defense against the media and the world.
Unlike the 1989 cycle, where she covered Billboard, TIME, Vogue, and Rolling Stone, among other publications, Swift has realized there's no reason to give access this time after her aura of girl-next-door relatability has been punctured; magazine profiles would've only exposed the wound. Instead, she's elected to let bald-faced corporate marketing do the talking for her, and she is one of the rare artists who can achieve cultural ubiquity in a fragmented culture. Forget squads; this album cycle, Swift's ride-or-die are the brands: the UPS trucks emblazoned with Reputation album art, the college football ads and ABC tie-ups that have thrust "Look What You Made Me Do" into TV teasers. She even put out her own glossy magazines—album extras, essentially, of handwritten lyrics, photos, and poetry, available exclusively at Target. She also signed a multi-year deal with AT&T, which has spawned an on-demand channel called Taylor Swift NOW, chock full of content that spans her entire career. Basically, you don't need to like Swift or her music—but you'll know about her anyway.
Of course, Swift's loving and unshakeable fans can be counted on to support her in any way possible, whether monetarily or in spirit, and so it is in their arms Swift has taken refuge. Swift has long been known for her generosity towards her Swifties—she even wrote a fan a check to help with student loans once. This time around, though she's adhering to a strict media blackout, Swift has been engaging her fans on Tumblr, as the New York Times pointed out. Ahead of a release strategy that is withholding the album from streaming services for a week, she chose hundreds of fans to attend hush-hush listening parties for Reputation in four different cities. It's not clear how exactly Swift handpicked these fans, but her Ticketmaster program has given some indication of how a Swiftie can prove themselves, as Jezebel explains: by buying her album (hopefully, multiple times at different retailers) and stanning for Swift on social media (and even then, what that gets a Swiftie is "boosts" to better places in line to buy tickets to Swift's tour).
So this is supposedly the new Taylor, and if you believe "Look What You Made Me Do," it's because she "got smarter and got harder in the nick of time." Harder? Sure. Smarter? That's debatable. Even in the Reputation era, Swift has continued to commit cultural faux pas that range from the confusing to the galling.
During the 1989 years, Swift attempted comedy by crawling through the legs of twerking dancers in her "Shake It Off" music video, set her "Wildest Dreams" fantasia in an Africa conspicuously devoid of black people, and mistook Nicki Minaj's veiled criticisms about racism and sizeism in the VMA 2016 nominations for subtweets directed at her. In what we've experienced of the Reputation era so far, Swift still remains bafflingly insensitive to (liberal) America's cultural milieu: When she returned with a series of Instagram videos of a hissing snake and a lead single that responded to her various humiliations at the hands of Kim Kardashian, Calvin Harris, Katy Perry, et al, there was a widespread feeling she was dredging up old news. Her video for "Ready For It" was, as its director Joseph Kahn said, intended as a "homage" to sci-fi and anime, but having the extremely blonde and extremely white Swift play a cyborg almost identical to Scarlett Johansson's character in Ghost in the Shell, a film that was fiercely criticized for whitewashing the Japanese source material, is just laughably out of touch.
And then, earlier this week, the ACLU broke news that Swift's lawyer had sent a small-time California blogger a letter threatening to sue for defamation over a post commenting on Swift's dubious association with the white supremacist fringe that is the alt-right. The ACLU decried Swift's threat of litigation as "a completely unsupported attempt to suppress constitutionally protected speech," and shot a letter back saying as much. It then emerged that Swift's lawyer has used the same scare tactic on other publications, often specifically with regard to posts about Swift's embrace by the alt-right—some of whom exalt her as an "Aryan goddess"—and her apparent refusal to publicly and explicitly denounce them.
It's true that musicians don't have much say over whether morally repugnant people listen to their music, and it's also worth questioning the motivations behind and implications of demands that Swift be vocally political, like Justin Charity has done at The Ringer. But it's another giant miscalculation for a musician promoting an album literally titled Reputation to decide she would rather protect said rep by going after bloggers and writers whose posts would have been swallowed by the sands of time and content instead of disavowing white supremacists. Swift has her moments of prudence, even savvy: She quietly sent Cardi B flowers when "Bodak Yellow" beat "Look What You Made Me Do" to the top of the charts, a gracious end to a competition that many would have liked to see explode into a feud; her refusal to mince words in her testimony against the Denver radio DJ she alleged groped her was widely admired, as well as her countersuit for a "single, symbolic dollar," as her lawyer put it. But that sort of intelligence or common sense simply doesn't seem present here.
None of this bad press really seems to matter, though, when you've sold almost half a million records via pre-orders alone. Swift is asserting her dominance over culture, whether people like it or not, via her sheer economic and corporate might. (I've always found it funny that she's signed to a label called Big Machine.) In that sense, the pose she strikes—victim, villain or both at the same time—doesn't matter. Ultimately, though, the villain pose falls away, and the romantic drama that Swift gets embroiled in on Reputation shows that she's moved on from victimhood (which is not an unfamiliar position for her).
The album, broadly, is about falling in love in the wake of public humiliation. Swift is pulled between defending herself in the court of public opinion and falling into her lover's arms in private, and the latter is made all the more risky by the former. "Ooh, you and me, we got big reputations," Swift swaggers on "End Game." "Ooh, you and me would be a big conversation." Swift's ruined reputation has turned her into a liability, a pariah, upping the romantic stakes—loving and being loved becomes dangerous. On "Delicate," she frets: "Is it cool that I said all that? Is it too soon to do this yet? 'Cause I know that it's delicate." The heightened drama on Reputation occasionally makes for great songwriting (see "Getaway Car"), but ultimately rings hollow because the truth is Swift is far from an ingenuous victim.
The flow of Reputation is interesting—the cannily arranged tracklist signals via bookending ellipsis a Side A, whose songs have Swift reveling in her hardened image ("I Did Something Bad") and cautiously but ultimately falling for someone ("So It Goes…"). Side B's love songs are more starry-eyed ("Gorgeous") and nakedly sensual ("Dress"), but the "turn" is complicated by the gleefully petulant "This Is Why We Can't Have Nice Things," a clear response to Kim and Kanye (you can't miss that "Real Friends" dig). Clearly, her ruined Reputation just wouldn't leave her alone.
"Call It What You Want," with its reference to "late November," and "New Year's Day," give some hints of Reputation's timeline. That timeline is one reason why the bile and obsessive tenor of Reputation may feel so misplaced and irrelevant to listeners now—we're listening to songs Swift likely wrote when the wounds still felt fresh. In 2017, we've got far worse things to worry about, but ultimately, Swift and her corporate squad will have you know that she still remembers what we did to her, and that she's put her own spin on it, regardless of whether you literally buy it or not.
Related: Why Taylor Swift's Fashion Choices Are Only Adding to the Problem with the "New Taylor"