Taylor Swift In Hot Water With ACLU After Allegedly Attempting to Silence Critic
The singer's latest feud.
---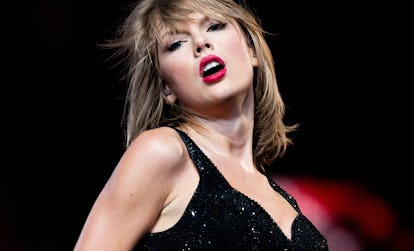 Getty Images
Taylor Swift can't seem to avoid a feud, and for the most part, she's come out on top, spinning disputes over stolen backup dancers and Twitter storms into hit songs. But recently, the pop star made the fatal mistake of raising the ire of an adversary bigger than Kanye and armed with more receipts than Kim K.: the ACLU.
On Monday, the ACLU sent Taylor Swift a strongly worded letter telling her to back off a critic her legal team reportedly tried to silence. You might want to buckle in for this story, because it's a hell of a ride. Here are the major events, as recounted by the ACLU:
In September, the lefty cultural website PopFront published a story entitled, "Swiftly to the alt-right: Taylor subtly gets the lower case kkk in formation." In the post, editor Meghan Herning, in a mix of "political speech and critical commentary," argues that some white supremacists have embraced Swift's work. Herning asks the singer to denounce white supremacy. (Swift has been notoriously tight-lipped about politics, choosing not to reveal who she supported in the 2016 election.) Then, in October, Herning received a cease-and-desist letter from Swift and her lawyer threatening a defamation lawsuit and demanding a retraction for the story.
"Among other things, the story propagates such hideous falsehoods as: 1) 'Taylor's lyrics play to [a] subtle, quiet white support of a racial hierarchy;' 2) that there are similarities between Ms. Swift and Adolf Hitler; 3) that the 'lyrics [of 'Look What You Made Me Do'] are the most explicit in speaking to white anger and affirming white supremacy;' and 4) that Ms. Swift's purported silence regarding white supremacy means she supports Donald Trump and identifies with the white supremacist/al-right movement," the letter from Swift's lawyer read.
After receiving it, Herning contacted the ACLU, who promptly sent Swift a letter stating that the editor and PopFront would not "in any way accede to your attempt to suppress their constitutionally protected speech." As for the aforementioned "hideous falsehoods," the ACLU had some cheeky responses a lyricist like Swift is sure to appreciate. "Not even in your wildest dreams can they constitute defamation," the ACLU penned. Très savage, but nowhere near as savage as this line, dropped somewhere near the middle of the letter:
"Criticism is never pleasant, but a celebrity has to shake it off, even if the critique may damage her reputation."
And, by the way, the ACLU sent T-Swift this letter just four days before her new album, Reputation, is set to drop.
Related: Diplo Goes After Taylor Swift Again, Draws Ire of Her Fan Base
7 Infamous On-Set Hollywood Feuds: