Diplo Goes After Taylor Swift Again, Draws Ire of Her Fan Base
He previously said messing with Taylor Swift was "one of the biggest mistakes" of his career.
---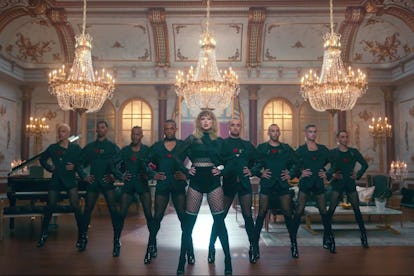 Taylor Swift
There are owns, and then there are self-owns; Diplo has a habit of embodying the later. Remember when he played a track for Rihanna, whose only comment was it "sounds like a reggae song at an airport." That's the kind of thing one might want to keep to theirselves, yet Diplo freely recounted the story himself. In his latest self-own he went on the record to claim that feuding with Taylor Swift was "one of the biggest mistakes" of his career. He then went right on to reignite that feud. Of course, we all know how Taylor Swift (and her fanbase) is about public feuds.
On Saturday, the investigative news bureau known as Perez Hilton obtained a copy of an unpublished Rolling Stone interview with the hapless DJ/producer. In said interview, Diplo makes some damning remarks:
"Music is in the hands of the kids," he says. "Streaming is literally what kids want to listen to over and over again. They want to listen to 'Rockstar' and 'Bodak Yellow.' They don't want to listen to, like, 'Look What You Made Me Do.' That music doesn't relate to them at all. I don't think it ever did. They were only given that by radio and marketing budgets. I'm impressed with Post Malone. I can relate to him more than Taylor Swift."
Ignoring the questionable claim of Diplo being any sort of authority on the "kids," this was a Very Bad Take simply for this reason: Taylor Swift has an army of stans who feel about perceived insults to their fave the way sharks feel about blood. And Diplo knows this. In a 2015 interview with British GQ, the producer had made the extremely classy comparison of Taylor Swift fans to "an army that's worse than North Korea." And earlier that year, he told GQ that Swift's fans are "really crazy" and "the worst people in the world." Also, they had allegedly "threatened to murder [him] and stuff."
Lest you feel sorry for Diplo, let us remind you of how he'd drawn the ire of the Swifties in the first place. In 2014, he tweeted "someone should make a Kickstarter to get Taylor Swift a booty." Immediately, he got massively owned by then-teenaged Lorde, who replied if we "should we do something about your tiny penis while we're at it hm."
It is unclear, after all of that, why anyone would reignite what is clearly a one-sided feud. (Swift, to this date, has never appeared to acknowledge Diplo in anyway, minus an Instagram of the pair wherein she appears quite pleased to be posing with a fan.) But, as previously mentioned, Diplo is a walking self-own, and obviously he has already been put through the Swiftie ringer since Perez Hilton published the story. He has since tweeted, "calm down [S]wifties 'all too well' is one of my fav songs" in a lukewarm attempt at a mea culpa, but it's too late. At this point, he should very much consider excluding himself from the narrative.
Related: Rihanna Mercilessly Shades Diplo During a Session with Future and The Weeknd, Speaks for All of Us
Gigi Hadid Talks About Her Squad: