LOOK WHAT YOU MADE HER DO
Taylor Swift Showed Off Her Dance Moves On Saturday Night Live
Call it what you want, I guess.
---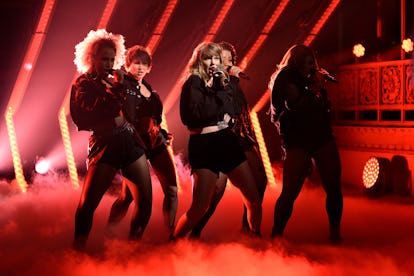 Photo by: Will Heath/NBC/NBCU Photo Bank via Getty Images
Are you ready for Taylor Swift: sexy dancer? As the musical guest on Saturday Night Live last night, Swift performed "…Ready For It?" from her new album Reputation. Forgoing the traditional backing band set-up, Swift's team stripped the studio 8H stage and installed red lights and four backup dancers. And together, they performed the pop single while Swift danced.
Or kinda…strutted.
Now, Swift has never been a trained dancer. In fact, her awkward attempts at dancing at award shows and concerts was one of her most endearing traits back in the day. At her own concerts, for many years, her go-to move was to essentially walk around the stage striking poses. She'd lift an arm or do a kick or twirl, but they were little moments of choreography, not full-on dance moves. There was a lot of pointing. She did her catwalk thing, and it was fine.
Last night though, she branched out with some thrusts and quite a few sways. For the occasion, she donned a cropped sweatshirt with some chainmail detailing and a pair of matching shorts, ditching her preferred heels for some chunky combat boots. All the better for dancing. Also worth noting: a very elaborate, snake-shaped microphone holder, lest your forget she's really into snakes now.
For "Call It What You Want," her second performance of the night, she left behind the dance moves, however, in favor of some classic Swift fodder: just Swift, an acoustic guitar, and some red lipstick. The singer was joined with four backup singers and a violinist, but gave an intimate-feeling performance that may win over even the biggest Swift skeptic.
Unlike Miley Cyrus, who was the musical guest last week and appeared in two additional sketches, Swift left the comedy to host Tiffany Haddish, opting to not show up anywhere besides the music stage.
Related: Taylor Swift's reputation Is Actually Two Albums: A Loving Hug For Her Swiftie Base, and Vengeance on Everyone Else
Nashville, Country Music's Capital City, Is More Than Just Master of None and Taylor Swift
Karlie Kloss (in Elie Saab) and Kelsea Ballerini (in custom Michael Kors) backstage at the CMA Awards in Nashville, Tennessee, November 2017.
Keith Urban and Nicole Kidman, Aussie transplants in Nashville, go out for "date night," as Urban captioned this image, September 2017.

@keithurban
Models Karen Elson and Lily Aldridge in Nashville, Tennessee, October 2017. "When Lily and I had a band (in my head)," Elson captioned.

@misskarenelson
Kacey Musgraves married fellow musician Ruston Kelly in a picture-perfect forest ceremony outside Nashville, Tennessee, October 2017.

@spaceykacey
Julien Baker has moved between Nashville and Memphis, Tennessee since her breakout debut album Sprained Ankle came out in 2015. Here, she plays Marathon Music Works with Frightened Rabbit, September 2016.

@julienrbaker
Carrie Underwood prepares to host the CMA Awards with Brad Paisley in Nashville, Tennessee, November 2017.

@carrieunderwood
Karen Elson plays at a gathering organized by former Rilo Kiley frontwoman Jenny Lewis in Nashville, Tennessee, August 2017.

@misskarenelson
P!nk enjoys an IPA after the CMA Awards in Nashville, Tennessee, November 2017.

@pink
Faith Hill (in Giorgio Armani) and Tim McGraw (in Tom Ford) at the CMA Awards in Nashville, Tennessee, November 2017.

@faithhill
Kacey Musgraves at home shortly after her living and dining rooms were redecorated by Elsie Larson of A Beautiful Mess in Nashville, Tennessee, January 2017.

@abeautifulmess
Musicians Dan + Shay with fellow singer-songwriter Lauren Alaina Suddeth at the CMA Awards in Nashville, Tennessee, November 2017.

@danandshay
Niall Horan's guitarist Jake Curran takes his seat next to Musician of the Year winner Mac McAnally at the Country Music Association Awards in Nashville, Tennessee, November 2017.

@jakecurranguitar
Miranda Lambert was photobombed by Faith Hill at the BMI Awards in Nashville, Tennessee, November 2017.

@mirandalambert