Taylor Swift's Reputation Won't Stream for a Whole Week, and Everything Else We Know About the Album
The pop artist Taylor Swift, who has a complicated relationship with streaming services, will be keeping her new album Reputation off of them in the first week.
---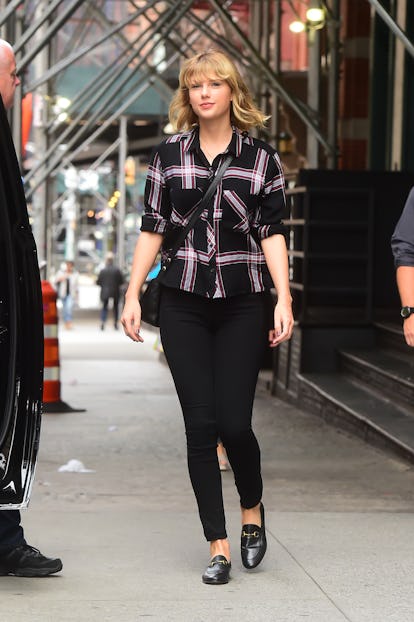 Raymond Hall/GC Images
Taylor Swift might not care about her reputation, but she does care about first week album sales. Allegedly, that's why the pop artist will be keeping her new album off of streaming services in the first week, as Bloomberg reports.
It is not yet known when Reputation will hit streaming services. Fans instead will have to listen to the album the old-fashioned way at first: by purchasing it. Come November 10, it will be available to buy in brick and mortar stores as well as on iTunes, although it's already up for pre-order. As for the reasons behind the move, none were given though it is highly likely that Swift and her team assume that streaming takes away from first-week sales, potentially preventing her from garnering another number one album.
Maybe she does have reason to be concerned: her comeback single "Look What You Made Me Do" debuted at #77 on the Billboard Hot 100. Plus it was released to a mixed reception, with many taking issue with the pettiness of creating a pointed diss track at Kanye West and Kim Kardashian — no less one year after their back and forth over whether or not she approved the line about her in Kanye West's The Life of Pablo track "Famous." (She says she did not; Kim Kardashian released footage of her allegedly doing so on the phone.) Some, though, took greater issue with the $10 million bathtub scene in the gaudy video for the song, which was assumed to be a reference to Kardashian's traumatic Paris robbery, where she was held captive in her robe in a bathtub. While how "Look What You Made Me Do" fits into the rest of the album, which also includes "Gorgeous,", has not yet been revealed, there may be more clarity around the track list.
According to an early leak seen by Variety, Swift will have company on Reputation. She's joined by her mentee Ed Sheeran as well as Atlanta rapper and Ciara's ex Future one track called "End Game." There are reportedly other songs with equally eyebrow-raising titles such as "I Did Something Bad," "Don't Blame Me," "Delicate," "So It Goes…," "Getaway Car," "This Is Why We Can't Have Nice Things," "Call It What You Want," and "New Year's Day." Then there are songs like "King of My Heart" and "Dancing With Our Hands Tied" which very well may be about her new beau Joe Alwyn, who is the new face of Prada. Until November 10 though, Reputation is just a guessing game, just the way Taylor Swift likes it.
Watch: Kanye West Just Wants to Bring Joy to the World Like Will Ferrell in 'Elf'