Martha Stewart, Stranded in Florida, Spent Her Bomb-Cyclone Day Blogging and at the Spa
Between worrying about her freezing citrus crops back home, the professional multitasker got a pedicure and posted on no less than four of her online accounts.
---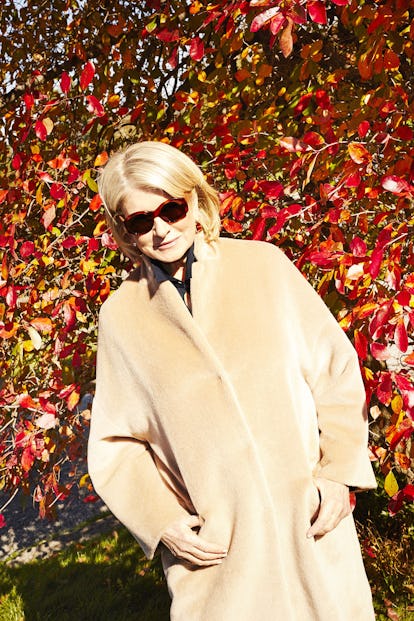 Photo by Maciek Kobielski, Styled by Nora Milch; Hair by Megan O'Connor; Make-Up by Daisy Schwartzberg Toye
After spending the holidays in Vermont, Martha Stewart continued her voyage away from her usual home in Westchester, New York all the way down to Florida, where she's been putting in her time both on the treadmill and in the hot tub. This sounds ideal given that her usual home is now being pummeled by a storm known as a "bomb cyclone," except that her dispatches from the Sunshine State have suddenly taken quite the turn: today, her photos of the state's cruise ships, aka ghost-like "giant behemoths" as she's termed them, that she admired just a few days ago have given way to cries for help.
"I am stranded in Florida like many other holiday travelers and I am looking for great things to do here in semi frigid temperatures-? it is really inclement here And I am worried about the farm crops abd [sic] citrus crops!" she captioned a sunny video of another so-called behemoth.
Still, Stewart does have some perspective; she continued, "I know it is even worse up north where people cannot even get to work and pipes are freezing and trees breaking!!!" Within hours of her plea this morning, then, Stewart had already gotten her plans sorted out, as she reported in her usual unusually spaced and spelled fashion: "Due to cancellations in travel plans spa appointments were made Here us the pedicure room st the Breakers in Palm Beach where we are being pampered very nicely in gorgeous surroundings."
Presumably while she was getting her pedicure, Stewart also tweeted a link to her latest blog post: one titled "Visiting My Ostentation of Peafowl," proving that her eight peacocks are still roaming about her farm, despite the several inches of "fast and furious" snow. "So many of you comment about how much you enjoy seeing the animals at my farm, so I thought it was a good time to share this update on my stunning peacocks and peahens," she wrote. "They're all doing exceptionally well and remain active, curious, and very, very vocal."
Finally, as anyone with time to kill would do, Stewart moved on to posting on her fourth account of the day: the official Martha Stewart Instagram, as opposed to her much more delightfully rogue personal account, @marthastewart48. This afternoon, Stewart posted yet another dispatch from Bedford: a photo sent over by one of her many coworkers of one of her many dogs, Empress Qin, outside on a relatively snowless patch.
Just an hour later, though, Stewart went back to being her real self: She switched to her "48" account and made yet another post, a much more forbidding video of the "state of emergency" back home offering a panoramic view of some entirely leafless, spooky-looking trees. Despite the calamity, though, the other birds on her property also seem to be having quite as much of a field day as Stewart and her peacocks, given their chirping in the background.
Related: Surprising Trend Alert: From Jennifer Garner to Martha Stewart, Celebrities on Instagram Are Obsessed with Their Poultry
The Official Martha Stewart Holiday Handbook: