Surprising Trend Alert: From Jennifer Garner to Martha Stewart, Celebrities on Instagram Are Obsessed with Their Poultry
Jennifer Garner likes to walk her chicken on a leash, while Martha Stewart has a very fancy goose.
---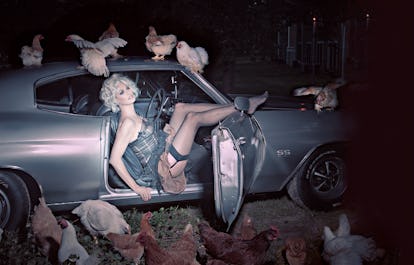 Martha Stewart has been busy thinking about birds. "I love birds especially parrots and canaries and falcons and owls and conures," she wrote in a recent Instagram caption. "And of course chickens and guinea fowl and geese." Of course. In fact, Stewart keeps what must be a few hundred birds of all types at her Bedford, New York, farm, and she's far from the only celebrity who loves fowl. Owning chicken coops has been something of an under-the-radar trend amongst the rich and otherwise glamorous for years now. Everyone from Barbra Streisand to Nicole Richie to Reese Witherspoon to Nicole Kidman to Jennifer Aniston own chicken coops. Something about collecting eggs must make one feel grounded.
Yet, is anything really a trend these days unless it shows up on Instagram? No, of course, not, and we are pleased to announced that celebrity's poultry obsession is now finally making its way to the 'gram.
It was Jennifer Garner who really went all in on going public with her chicken enthusiasm yesterday by introducing the world to a pet hen she had named "Regina George." Garner prefers to keep George on a leash when they go for walks (presumably so the chicken doesn't get hit by a bus).
"If there isn't a Chicken Lady Day, there really should be," she wrote. "Man, my life gets more exciting all the time."
"Meet one of our ladies, Regina George. Regina loves long walks, dehydrated bugs, and kale. Regina hates….carbs."
Garner does more than walk her chicken on a leash. In late September, she also revealed that sometimes she likes to keep her chickens in a bag
Garner's caption seems to indicate that her chicken tote may be from friend Reese Witherspoon's Draper James line, but we can't find it online. We can, however, confirm that both Witherspoon and Draper James are very, very much pro-chicken.
It's not just an American trend, either. Over in England, Elizabeth Hurley has her own pack of chickens.
Tori Spelling is also very, very into her pet chickens. In fact, what Paris Hilton is to chihuahuas, Spelling is to fancy chickens.
[#instagram:https://www.instagram.com/p/BXiq8klDSqL/]
Indeed, her prized chicken is named Coco (as in Chanel). Coco is a silkie bantam chicken who sometimes sleeps in her bed. Coco also has quite a wardrobe. "I make her outfits to mimic my vintage dresses. She also has little caplets!" she once told US. "I turn vintage brooches into fascinators for her. Right now I'm knitting her a chicken poncho for those cool summer nights."
Though, its truly Martha Stewart who is fameland's biggest farmland bird booster. "Just a few of my 180+ chickens who live at the farm," she wrote in what may have been a humble brag of a recent Instagram caption.
She also has a few peacocks.
Though, it was just yesterday that she introduced the world "one of my two Pomeranian geese."
So, if you're a celebrity who has a chicken coop or just happen to be someone who wants to live like one apparently you need to get some poultry selfies on your Instagram state. (Except for you, Azealia Banks. You should just stay away form both chickens and social media completely. You know what you did).
Related: Linda Evangelista's Secret Poultry Past
See What's Trending in W Video: