How 76-Year-Old Martha Stewart Keeps Her Instagram Better than Yours
An homage to the multi-hyphenate's personal Instagram account on her 76th birthday.
---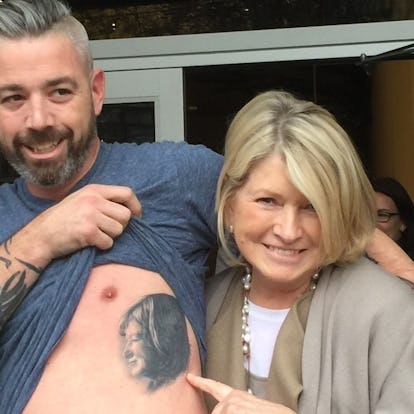 Courtesy of @marthstewart48
Martha Stewart has made a name for herself—and built an empire—by embodying domestic (and traditionally female) perfection. It's an image which, prison stint notwithstanding, she's kept alive for decades through a variety of multimedia endeavors, including her main Instagram account—a manicured grid of stationery set-ups, floral arrangements, and culinary concoctions just messy enough to make you think you, too, might be able to make recipes like lemon-spice ice cream sandwiches. But while it might be infused with Stewart's ethos, don't let @marthastewart fool you: Stewart, who turns 76 today, keeps her real 'grams under another handle, which is an entirely different breed of perfection. @marthastewart48 is a brilliantly curated blend of selfies; celebs like Usher, Macklemore, Snoop Dogg, and Lil Yachty, the latter of whom she notes is "beloved by Target"; and charmingly blurry, zoomed-in compositions, many featuring Stewart's farm animals and beloved pets, like a Chow Chow named Genghis Khan. (Despite that her spirit animal is "definitely a leopard.")
Stewart first started the account four years ago, though her social media usage has not been without criticism: She came under fire in 2013 for her foodstagrams, widely considered to be disgusting. To be clear, many of those were posted to Stewart's Twitter, which is also a gem: Recent highlights include a Jason Derulo concert, a ruthless roast of Kardashian sidekick Jonathan Cheban, and queries to her followers about sewage and potential UFO sightings.
On Instagram, though, Stewart is perhaps most beautifully DGAF in her captions, where she embellishes her quips with typos, exclamation points, and an air of being unapologetically genuine. "Do you like? Do you love? Not that I would do such a thing but it is a bit appealing?" she asks earnestly alongside one photo from her former modeling days—another of her feed's recurring features—where her body has been Photoshopped with tattoos. "Does anyone know why boxwood has become so popular in Los Angeles ? It seems an anomaly yet it appears to thrive," she asks in a blurry close-up of some L.A. resident's lawn one can practically imagine her telling her driver to slow down for.
Stewart is also unafraid to break the cardinal rule of posting one repeat 'gram after another—like three posts in quick succession of her "noisy tub grinder," and what was essentially a live-blogging of the construction of her pool, which she tirelessly documented over the course of several weeks. Rather than celebrate her birthday on the farm, though, Stewart's currently partying on an island in Maine with "agaves and spruce and lobster boats and pristine ocean." Join in on the festivities by taking a look back at some of her best Insta moments, some of which have inspired her upcoming musical treatment, here.
Related: For Her Birthday This Year, Martha Stewart Is Getting Her Very Own Musical
Watch: Martha Stewart Recalls Her Favorite Birthday