For Her Birthday This Year, Martha Stewart Is Getting Her Very Own Musical
Get an exclusive look at the comedian Ryan Raftery's take on the domestic goddess before his residency at Joe's Pub.
---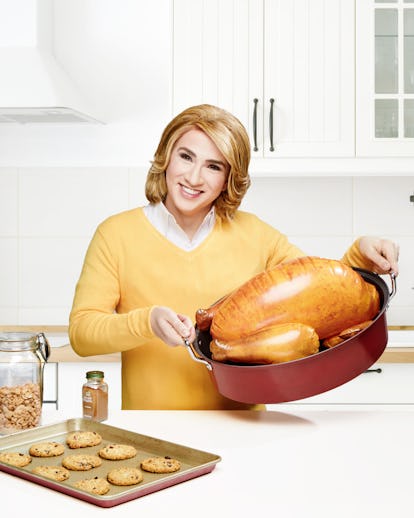 Brendan Burke
Martha Stewart, who turns 76 today, has been the world's premier domestic goddess for decades, but that doesn't mean the famed perfectionist isn't capable of pulling out a few tricks from her perfectly starched sleeves. In the last few years, she's helmed an under-the-radar Instagram account filled with blurry photos and shockingly DGAF captions; picked Snoop Dogg, of all people, as her partner in winning an Emmy nomination; and now, as of Monday, she will also be belting out ballads inspired by everyone from Bruno Mars to Metallica at her very own residency in the intimate, dimly lit, decidedly downtown Joe's Pub.
Well, technically, the latter isn't really Martha, per se: The perfectly coiffed blonde in a signature pair of open-toed (and in this case, size 12) wedges onstage at the Public Theater this August and September will actually be Ryan Raftery, the comedian and writer who's decided to continue his "titans of media" trilogy—you may best know him as "Anna Wintour" or "Andy Cohen"—with Stewart, as you can see in an appropriately birthday-themed preview of his upcoming show exclusively here on W.
To perfect Stewart's voice—which he's mixed with "a bit of Kim Cattrall from Sex and the City"—Raftery took a nine-month deep dive into YouTube clips, say, an eight-minute, cue card-less demonstrations on how to winterize your garden hose; prowled Stewart's infamous Facebook Live streams; and just generally relived some of Stewart's most memorable moments as the "queen of no f—-s given." (If that title sounds extreme, let's not forget the time Stewart said of her "heir apparent," goop's Gwyneth Paltrow: "She just needs to be quiet. She's a movie star. If she were confident in her acting, she wouldn't be trying to be Martha Stewart.")
Before all that, Raftery wouldn't necessarily describe himself as a fan of Stewart's, but after his preparations, his mild admiration turned into "an insane amount of respect"—particularly when he learned that Stewart, a New Jersey girl with five brothers and sisters, who didn't have wealthy parents and came from a family of Polish immigrants, built her empire "with no help whatsoever."
It's safe to say, then, that Raftery has since been converted, in part because, like Stewart—who familiarized herself with baking through her Jersey neighbors—he is a "voracious learner." When he began writing the show for Joe's Pub, he even started meticulously planning a dinner himself—one fit for Stewart to attend. (Spoiler alert: It's at that moment, at a table in the crowd where forks are set on the right instead of the left, that "Stewart," whose synapses are visibly firing, learns "she doesn't have pet peeves; she has psychotic hatreds.")
To be clear, though, Raftery is right on board with Stewart: "Martha is one of the most famous domestic divas ever to have lived, and yet has only 131,000 followers on Instagram. That's because everything about our society now is about easiness and how quickly we can get things done," he said sincerely.
"Rachael Ray wants to get you in and out of that kitchen in 30 minutes, and that is not what Martha Stewart sells. Martha Stewart sells you the perfectionism that is attainable, but you are going to have to work for it, and people don't want to do that anymore. Why go to school or college when the Kardashians are insanely popular and successful and millionaires?" he said.
Raftery's answer to that question—that if you do, you can be the goddess that Stewart has been for decades—is interspersed more playfully with his parodies of songs by everyone from Adele to Beyoncé—sung, of course, by "Martha" herself. As for what Martha would think?
"I would hope she'd understand and I'd love for her to come see the show," Raftery said.
After all, he shares quite the same amount of irreverence as his so-called "queen of no f—-s given." As an example, Raftery recalled "the most Martha Stewart moment I have experienced in all of my nine months of research: the Facebook Live that she did [on] Halloween, making caramel apples, that M&Ms sponsored. Martha's talking to the camera, and her assistant takes the apple, dips it in the caramel, and starts rolling it around in a bowl of M&Ms. And Martha stops and says to the girl, 'Are you just rolling that around in the M&Ms? M&Ms only print the "M" on one side, so all the "M"s are facing out.' And then, Martha looks at the camera and says, 'M&Ms, it would be nice if you could print the "M"s on both sides'—to the people that are literally paying her to advertise. She truly is amazing."
Plus, Raftery continued: "She's not slowing down, and the fascinating thing is that now it's not about the money. Martha Stewart does not need more money; I really do believe that Martha just wants to help us all live correctly."
Related: How 76-Year-Old Martha Stewart Keeps Her Instagram Better than Yours
See How Street Style Stars Do Paris Fashion Week: