Martha Stewart Is Now Selling Martha Stewart-Approved Wine
Martha Stewart just released the Martha Stewart wine club, which offers subscription boxes and individual bottles of some of Martha's favorite wines
---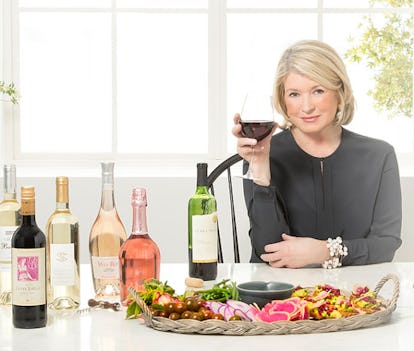 Martha Stewart Wine Co.
You've already eaten, cleaned, and decorated your house with the help of Martha Stewart, and now you can get drunk with her, too. Sort of.
The homemaker extraordinaire just announced her latest venture: Martha Stewart Wine Co. Considering she recently entered into the subscription food scene through her partnership with Marley Spoon, what kind of hostess would she be without offering a wine pairing?
The company offers a monthly subscription service that sends you Martha-approved bottles of vino every few weeks…and it's surprisingly more affordable than you may expect. There's the "half case" plan, which gives you six bottles every six weeks at $8.33 a bottle, or a "full case" plan, 12 bottles every eight weeks at $7.49 a bottle. Considering how valuable the Martha Stewart stamp of approval is (…entire empires have been built on it, after all), these grocery-store prices are a steal. If signing on for a year's supply of Martha wine isn't your thing, you can order individual bottles, or opt to buy one case at a time, though prices may vary.
There's also a very, very important section on the website, "Martha's Favorites" that lists some of her top choices. They're available for individual purchase, and the thought of her testing them makes them even more appealing. Can't you just picture her nursing a glass of French Merlot while curled up under a cozy cashmere throw in front of her fireplace with her dog? Or sipping on rosé while serving her friends a magazine-worthy backyard barbecue? Or pouring a glass of Sauvignon Blanc to pair with her famous roast chicken?
Clearly, it's Martha Stewart's perfectly decorated, deliciously curated, a-little-bit-wine-drunk world, and the rest of us are just living in it.
Related: How 75-Year-Old Martha Stewart Keeps Her Instagram Better than Yours
[#article: /articles/57a22be18bc59096722eaf66]|||How 75-Year-Old Martha Stewart Keeps Her Instagram Better than Yours|||