Harry Styles Proclaimed His Enduring Love for Taylor Swift's "22" During a Concert
Years after breaking up with Taylor Swift, Styles is (understandably) still quite a fan of the bop.
---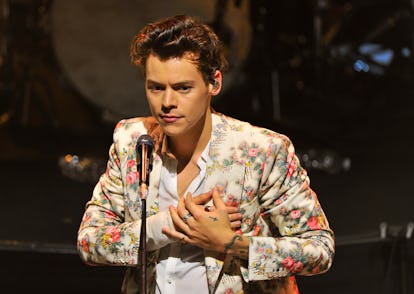 Steve Jennings/Getty Images
Remember "22" by Taylor Swift, the seminal pop song released long before the singer declared herself dead and started out hanging in bathtubs full of millions of dollars' worth of diamonds? Of course you do—the song was such an omnipresent bop at the time that chances are you know the words to at least the chorus. Still, it doesn't seem to have been at the forefront of most people's minds, since it came out in 2012, but those select few notably happen to include Harry Styles, who's still publicly showcasing his love for the song years later.
While onstage as part of his Copenhagen tour this week, Styles decided to give a birthday shout-out to one of his fans. He then asked how old she was, and then tried to guess in an extremely strange, apparently self-aware voice of what fans would speculate from his making a reference to his ex: "22?" Apparently deciding to just go for it, he briefly launched into a verse from the single's chorus: "I don't know about you, but I'm feeling…" (Though the crowd burst into cheers, his cover unfortunately abruptly ended after that.)
This isn't the first time Styles publicly expressed his approval of the song: He also threw his fans into a frenzy on his 22nd birthday back in 2016, again making a direct reference to it by tweeting simply, "I don't know about you, but I'm feeling 22."
His love for the song may seem a bit awkward, given that he and Swift dated from October of 2012 to January of 2013, a relationship most memorably memorialized in the paparazzi photos documenting their extremely public walk in Central Park. Since then, Styles has been the much-rumored subject of at least three songs on her subsequent album, 1989, including the not so subtly named "Style." None are particularly bitter about their subject, though Swift did seem to express some of her not-so-positive memories of their fling when she once performed "Out of the Woods," telling the crowd that it was about a relationship in which "the number-one feeling" she felt was anxiety. "Because it felt very fragile, it felt very tentative. And it always felt like, 'Okay, what's the next roadblock? What's the next thing that's gonna deter this? How long do we have before this turns into just an awful mess and we break up? Is it a month? Is it three days?'"
That sounds difficult, but it's also not the worst reason for a relationship to end. And while he professed to not knowing for sure whether they were about him, in 2017, Styles told Rolling Stone that he's "well aware" that "Style" and "Out of the Woods" are considered to be about their relationship, and that he's, in fact, glad she wrote them. "I write from my experiences; everyone does that. I'm lucky if everything [we went through] helped create those songs. That's what hits your heart. That's the stuff that's hardest to say, and it's the stuff I talk least about," he said.
Whether they're about him isn't even his biggest concern about the songs: "The issue is, she's so good, they're bloody everywhere," he added, even continuing his praise when pressed: "She doesn't need me to tell her they're great. They're great songs…It's the most amazing unspoken dialogue ever." He even thanked Swift for writing them: "In writing songs about stuff like that, I like tipping a hat to the time together. You're celebrating the fact it was powerful and made you feel something, rather than 'this didn't work out, and that's bad.' And if you run into that person, maybe it's awkward, maybe you have to get drunk…but you shared something. Meeting someone new, sharing those experiences, it's the best shit ever. So thank you."
Getting back to the present, Thea, the birthday girl who prompted the homage, afterward tweeted about the experience to her 20 or so followers. She also retweeted an extremely strange mash-up her friend made replacing Swift's "22" with Styles' extremely oddly voiced one that is definitely worth the six-second watch—even, it seems, for Styles and Swift, too.
Related: Harry Styles Is Impressed With, and Inspired By, Shania Twain