Jodie Turner-Smith Keeps Stepping Out in This Season's Hottest Coat
She's been spotted in her Gucci x North Face coat at least three times in the past week.
---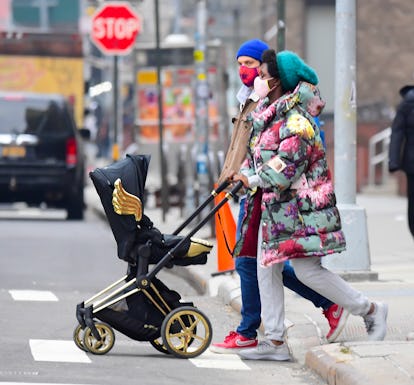 Photo by Stealth Pix/GC Images
For many first-time parents, staying stylish is not as important as getting a full night's sleep. But Jodie Turner-Smith proves that fashion and parenthood go hand-in-hand, as she ruled the streets of New York City with baby Janie in tow. The British actress and model, stepped out with husband Joshua Jackson three times in the past week in one of the winter season's hottest style collaborations: Gucci X North Face.
Turner-Smith wore a teal puffer coat from the collection, featuring bright printed flowers and a cozy hood on January 15th, January 16th and again on January 19th. In the first appearance, she paired it with a turquoise floppy hat, a stylish light gray sweat suit, and a light pink face mask for safety.
The Gucci X North Face coat itself is gorgeous, but equally impressive is that baby stroller. Baby Janie got to ride in a seriously fabulous pram by Jeremy Scott, designed in collaboration with Cybex. The black stroller features Scott's signature angel wings and gold detailing, for the baby that has it all.
Stealing Turner-Smith's look won't be easy. Right now, the Gucci X North Face is only available in a series of pop-up stores in various locations around the world; lucky raffle winners can shop online now before the e-store opens to the public on January 22. It may be freezing outside, but this Gucci X North Face coat will have you feeling like you're in paradise.
Related: Jodie Turner-Smith Will Put a New Spin on Queen Anne Boleyn in a "Psychological Thriller" Series