Joe Alwyn Goes Public on Instagram With a Subtle Tribute to Girlfriend Taylor Swift
Mostly, taking selfies with Emma Stone and traveling across the world.
---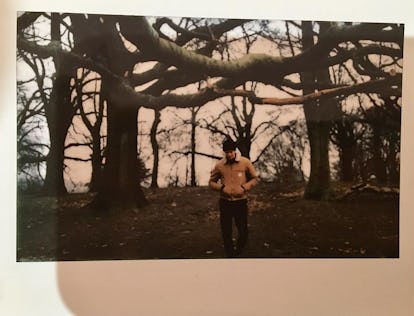 @joe.alwyn
Congratulations are in order for Joe Alwyn, the actor better known as Taylor Swift's boyfriend, for he has finally joined the legions of public little blue check marks on Instagram. Over the weekend, Alwyn made his previously protected Instagram account public, revealing a sparsely populated feed of images from his travels dating back to 2015—he's been here all along—and sending Swifties everywhere into a furor.
Alwyn's newly unlocked account reveals him to be quite the avid traveler. It features a globe-spanning array of images, both of simple landscapes and of himself, situated against said landscapes, everywhere from Morocco to Paris to Argentina. The most recent post, which he added on Sunday, is a behind-the-scenes look at his upcoming movie, the bonkers-looking Yorgos Lanthimos–directed The Favourite. In the photo, he's flanked by costars Nicholas Hoult, Rachel Weisz, Emma Stone (also an adjacent member of the Taylor Swift squad, albeit one without a public Instagram), and James Smith, amid a fleet of parked trailers. (The actor, somewhat remarkably, given his public profile, has actually only been in two films released to date: Billy Lynn's Long Halftime Walk, his breakout role, and The Sense of an Ending.)
And though none of his images include Swift—nor has she posted any photos of him to her feed, at least since wiping her history before the release of Reputation—there is one subtle reference to their travels together. (The couple have been notoriously private about their relationship, in sharp contrast with Swift's short-lived fling with Tom Hiddleston.)
On May 8, the eve of the opening show of Swift's Reputation tour in Phoenix, Arizona, she posted a photo of herself in a black tea-length dress and sunglasses, dwarfed in the shade of a massive cactus. "Fact: I've never been more excited about a tour than I am about this one. And it starts TOMORROW. Also, not even remotely tour related, but today I met a cactus," she wrote in the caption, followed by the cactus emoji. On that same day, Alwyn also posted a photo of himself in front of a cactus that, if not the exact same one, is uncannily close. His is simply captioned with the cactus emoji. The following day, Alwyn was in the crowd at Swift's show—so, basically, you know they were together.
The comments, if there ever were any, have been wiped, and given how spaced out the posts are now, it's likely he either deleted a selection of the photos or forgets about his Instagram from time to time. (Who among us has not?) His followers, however, already include Swift's close friends Lena Dunham and Gigi Hadid, as well as his The Favourite costar Hoult. Joe Alwyn: Welcome.
Related: Gigi Hadid and Emma Stone, Squad Members, Attend Taylor Swift's Concert in New Jersey