John Boyega, Star Wars Hero, Stays Up Too Late Watching The Affair
The Star Wars actor tells us how he starts and ends his days—and everything he can't live without in between.
---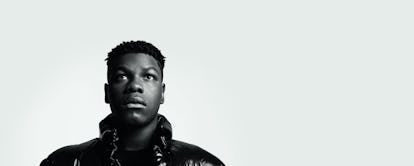 Image courtesy of Moncler.
John Boyega is no stranger to the resistance. In the Star Wars universe, the British actor plays Finn, the Stormtrooper-turned-hero; in Pacific Rim: Uprising he leads a group of fighter pilots; and in Katherine Bigelow's Detroit, the actor takes on the complicated role of a private security guard tasked with protecting stores during Detroit's historic 1967 12th Street Riots. Maybe that's why Boyega was among the 19 talents tapped by Moncler for its fall "Beyond Moncler" campaign featuring everyone from Millie Bobby Brown to Maye Musk to the Italian Paralympics fencer Bebe Vio, all of whom embody the idea of going beyond barriers somehow.
With roles in cultural phenomena like the Star Wars and Pacific Rim franchises, Boyega is also at the heart of the fanboy universe, and he happens to be bit of pop culture fanatic himself. While rooting for England in the World Cup, Boyega called us from London on Wednesday to explain how he starts and ends his day, his current Afrobeats obsession, and the TV he can't live without right now.
How'd you get involved with the Moncler Beyond campaign?
I've always been into fashion. I love a good jacket, that's my go-to thing. I was always attracted to that element, and aside from that was the message behind all of this. The fact that they were getting so many people from diverse backgrounds and experiences to talk about "going beyond" and giving the artist the chance to independently decide what that would be—and, for me, it was going "beyond obstacles." With that kind of personal connection as well, it just makes sense that we would go on this adventure together.
What does going "beyond obstacles" mean for you? What sort of obstacles?
For me, it's obstacles that are back to back… different challenges in terms of career, in terms of relationships, all of those different combinations of obstacles at different times in our lives. For me, just going through a transition. I'm only in my 20s, but just looking back I'm kind of getting grips on how life works and different stages, and how obstacles are a part of that and a part of maturing. That's just something that was important.
So far in your career you've portrayed many characters who grapple with that, and overcome figurative and literal obstacles as well, especially in Star Wars and Pacific Rim.
Yeah. All obstacles. Even in terms of the beginning stage of the career, obstacles are something that you get so used to. The uncertainty of your life. You'll always exist in a weird balance because you're going for a career that's somewhat unrealistic and not all success. There's always challenges and you've gotta get through it or you're beaten by it. It creates this kind of discipline, in a sense.
I have some rapid fire pop culture questions to ask you. Starting with: What's the first thing you read in the morning?
It's called "A Word for Today." It's a Christian app that gives you Bible scriptures, and a little story and a message.
What TV shows have been keeping you up all night?
Currently I'm watching The Affair. I'm watching Power because my friend Rotimi is in it. And I've just been watching documentaries on Netflix!
Which documentaries?
Oh there was this one the other day that really, really got to me. It's about this woman who's a serial killer and a narcissist, and they found her boyfriend's body inside a fridge. She goes to prison for a long time and it's a really messed up story. They talk about how she has a high IQ and she's intelligent and uses this to just be sinister, and it's mind boggling. That's been creeping me out for the past few days. [Laughs.]
I probably wouldn't be able to sleep after watching that!
Yeah, I don't play man. You know I'm Nigerian. It just controls the whole body, I'm out!
What's the last movie you saw in theaters?
It was Solo: A Star Wars Story. That's the last thing I saw.
And Billy Dee Williams is reportedly reprising his role as Lando Calrissian in Star Wars: Episode IX?
I can't even say anything about that! … Allegedly.
What podcasts have you been into lately?
Recently I've been listening to a podcast with one of my friends. She's fresh out of San Diego. Her name is Keisha Scott. She's just been involved in this podcast [called "Full of It"] with a bunch of her friends. Normally they talk about a whole bunch of American football, which I don't understand, but sometimes they really get into some true issues as well.
Are you watching the World Cup then? Instead of American football?
I am! I'm currently sitting in front of my TV playing some video games real quick just to calm my nerves. I [was] rooting for [England].
Which video games do you play?
Funnily enough, I love Star Wars Battlefront! That's the game I play a lot. I'm playing Assassin's Creed; I just finished a game called Detroit which is pretty good. It's a multiple choice game. Yeah, that's about it.
What's the last song you had on repeat?
Oooh. Do you mind if I check my phone? I'll check my phone. It was an Afrobeats artist from Nigeria.
What's the last concert you went to?
The last concert I went to was Afrorepublik at the O2 Arena to see WizKid and a few other artists.
Since you have your phone out—what's the last thing you googled?
Let me check. That should be interesting. [Laughs.] Oh! Annabel's. It's a restaurant in London, i was trying to find the location because I was going to a dinner for Drake and his Scorpion album. So I was googling "Where is Annabel's restaurant" because the invite was really mysterious and stuff, and I was like, Okay, I need logistics. [Laughs.]
What's your favorite song from Scorpion?
I haven't listened to it yet! Nope. Haven't listened to it. I'm not on top of music as well as I'm on top of movies. Sometimes I listen when the buzz has died down. He talks about a whole bunch of things, so it will be interesting to find out.
You're a Drake fan, though, in general?
Yeah, I really respect the guy. I love Drake, he's done very well [in his] career and I like his perspective.
Are you into astrology at all?
Not as much, but I have had a couple different conversations about it. I'm at least curious, but not curious enough to actually read! [Laughs.]
What's the biggest piece of pop culture that you're a huge fan of right now?
I'd say Afrobeats. Afrobeats is coming up, just in terms of the way I've been seeing Afrobeats infiltrate popular culture and mainstream culture. Just a it more awareness. Even in little commercials, all the Afrobeats music you'll here. And WizKid's song in Pacific Rim, I'm a big fan of that movement of music!
Last question: What's the last thing you do before you go to bed?
I pray! I pray, I pray, I pray. I forgot to pray yesterday, though, because I *conked* out! [Laughs.] I pray and then sometimes if I have enough time I'll try to meditate as well. Just to detach from the day and the current challenges and struggles of daily life, I try to detach and hopefully find some good path.
So you start your day and end your day with prayer.
Yeah! That's how I was raised.
Related: Why You Need To Follow the Cast of Star Wars: The Last Jedi on Instagram