Why You Need To Follow the Cast of Star Wars: The Last Jedi on Instagram
May the force be with you on this one.
---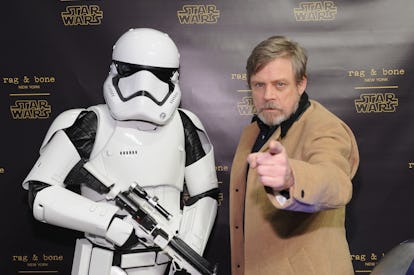 Craig Barritt
With the release of Star Wars: The Last Jedi comes a wave of interest on social media. Everyone and their mother has either lined up at midnight for the premiere or anxiously awaits the moment they see those big letters scroll on the screen.
I generally consider myself a luddite when it comes to fandom knowledge about the intergalactic space opera that everyone else on Planet Earth has fallen in love with, but that doesn't mean I don't know anything about Star Wars—I am from this planet after all. In fact, the cast's chummy relationship that they flaunt on red carpets and during press tours is so endearing to me that I can't help but follow as many of them as possible on Instagram.
John Boyega, Mark Hamill, Andy Serkis, Billie Lourd and Kelly Marie Tran have all nabbed my attention on Instagram and for good reason. It can be a little unsavory to discover that someone's account is only filled to the brim with fan art or promotional shots for their film projects, but every actor involved in The Last Jedi is so playful online, and clearly a big fan of the series themselves that it is quite a treat to watch everything they know about the franchise to unfold through social media.
Not every Star Wars cast member is on Instagram, and it kind of breaks my heart (and surely the hearts of millions of superfans) to know that. Daisy Ridley, known as the scavenger named Rey in The Force Awakens and The Last Jedi, quit Instagram last year due to the negative comments on her account, and Gwendoline Christie appears nowhere to be found on Instagram either. It should also be noted that I am especially incensed that Oscar Isaac, Adam Driver, Benicio Del Toro, and Domhnall Gleeson seem to all not have verified Instagram accounts, because if they did, I'm sure their follow count would be in the millions, and well, I just wish I could get any insight into their private lives through that lens.
But the Star Wars cast member account I cannot recommend enough is none other than the iconic Laura Dern. Dern is by far the best cast member to keep up with, whether she's giving BB-8 a pep talk, palling around with her "mentor" Andrew Garfield, or just eating a damn fried green tomato sandwich, she's so charming and fun on Instagram.
But this is not only about Laura Dern (that'd be a whole separate deep dive). John Boyega, who plays Finn in Star Wars: The Last Jedi, is a fun follow. He also has an adorable cat and brought his entire family to The Last Jedi's red carpet in London.
A veteran of the bunch, Mark Hamill—aka Luke Skywalker—is such a delight to follow even if you don't know anything about Star Wars. His throwback game is also unprecedented.
It's just delightful to not see Andy Serkis as a computer generated character like Gollum.
Billie Lourd, whose role in The Last Jedi is much bigger, has also been quite active on the app. She also recently shared a tattoo tribute to her mom Carrie Fisher, the iconic Princess Leia.
Newcomer Kelly Marie Tran appears in The Last Jedi as the mechanic Rose Tico, and even though her friends told her to "play it cool" on her public Instagram account, her excited reaction to watching the Star Wars trailer for the first time is genuinely charming.
May the force be with you in following as many of these cast members as you possibly can before you see The Last Jedi.
Related: Celebrating Carrie Fisher's Final Appearance as Princess Leia