Photographer John Edmonds Began 2020 With a Spiritual Bath
The photographer discusses his solo exhibition at the Brooklyn Museum of Art, the inextricable link between identity and creative process, and beginning his year with a spiritual bath.
Photographs by John Edmonds
---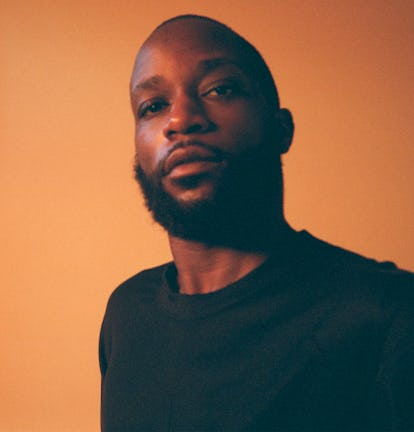 For our annual "The Originals" portfolio, we asked creatives—pioneers in the fields of art, design, fashion, comedy, activism and more—to share their insights on staying true to themselves and pushing the creative envelope in a chaotic year. Read all the Q+As from this year's group here.
Ten years ago, your celebrated photographs of lovers, friends, and strangers whom you approached on public transit first entered the public consciousness. Today, your work is in the Guggenheim's permanent collection, your first monograph, Higher, was a critical success, and last year, you broke into the commercial realm. This fall, the Brooklyn Museum of Art is hosting a solo show of your work, "A Sidelong Glance," in honor of the UOVO prize, which you won. What has 2020 been like for you?
In the beginning of 2020, I did my first trip to the continent of Africa, to Ghana, and the year began with a spiritual bath. From that moment on, this year has felt like a process of shedding and shedding and shedding, and again being born anew.
The Brooklyn Museum show features 10 new images that incorporate pieces from the museum, but also from the African art collection of the late author Ralph Ellison. What was it like working with Ralph's pieces?
I feel very proud to be able to say that I worked with a collection that has such an immense history to it. It's incredible, because you see the differences in these sculptures, and it shows how global Blackness is, and I think that is something that can be forgotten when we are confronted with images of violence and devastation.
In 2020, the idea of selling out doesn't really exist in culture anymore. Because of Instagram and how transparent the creative industries have become, now we all get excited to see our favorite artists do a commercial project and get paid for their talent. You recently shot a Telfar campaign for the designer's new line of do-rags, a collaboration that made particular sense given that you've focused on the accessory before, in a 2018 series. What are your thoughts on making work outside of the realm of fine art?
I see my work as always my work, and not something that is that categorizable as commercial or fine art. We know that both of those kinds of spaces are—especially now, wherever we are in history—very fragile. I'm making the work that I want to make, and I see it as part of a lager whole. Making the Telfar campaign was super-rigorous and very chaotic at times, but also really incredible and beautiful. I'm really happy about that collaboration, especially in that it felt so spirited in regard to where I am coming from with my practice and where Telfar is coming from too.
Who is your style icon, and why?
Writers and the ways they document themselves are iconic to me. I'm think- ing Toni Morrison, and when you watch her documentary, Pieces I Am, how she understood photography and documenting herself and creating her one image… You can see that with James Baldwin. You can see it with Susan Sontag too.
What is the most unoriginal thing that people ask you?
"What is your work about?" versus "What is your story?" Identity is about more than what people see or what's physical. It's tied to place. It's tied to familial history. It's tied to desire. It's tied to, perhaps, what you had been denied, to the different types of traumas you might have experienced growing up. I think that it's really important to understand someone's story in order to understand why they do what they do.
What does originality mean to you?
Considering the origins.