John Mulaney's Saturday Night Live Diner Lobster Sequel Is a Bodega Musical
From the people who brought you "Diner Lobster" comes "Bodega Bathroom"
---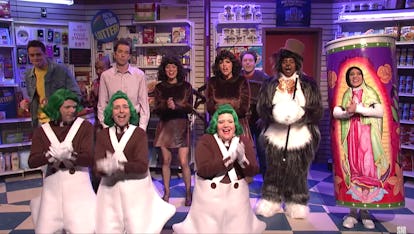 Youtube
John Mulaney is the theater geek's dream comedian. His and Nick Kroll's show Oh, Hello not only ran on Broadway, it featured beloved stage personalities and guests and was a perfect send-up of a certain kind brand of Upper West Side theater patron. In the most recent episode of Documentary Now!, Mulaney played the Sondheim-esque composter of the musical Co-Op as the show spoofed the cast recording of Company. And this weekend, hosting Saturday Night Live for the second time in under a year, Mulaney gave audiences a spiritual sequel to last April's Les Mis-in-a-fish-tank sketch "Diner Lobster." It's called "Bodega Bathroom" and it's incredible.
In the sketch, Pete Davidson and Chris Redd ask a bodega owner (Mulaney) for the key to the bathroom, which he gives them (attached to a cement block) before pointing them toward the Bodega Cat. The Bodega Cat (Kenan Thompson) takes them into the world of the bodega bathroom, where cats sing, roaches dance, and toilets need to be fed. There are also Oompa Loompas and Kate McKinnon as a Virgin Mary candle.
"Bodega Bathroom" runs through a number of Broadway's greatest hits. Let's see if we recognized them all: "Pure Imagination," "Oompa Loompa" and "The Candy Man Can" from Willy Wonka and the Chocolate Factory, "Feed Me" from Little Shop Of Horrors, "Memory" from Cats, and "Seasons Of Love" from Rent. Watch the mash-up medley here, and always pee before you leave the house:
And while we're here, should we just take another look at that Documentary Now! episode? Maybe just one quick song? Because Richard Kind can do no wrong? And poor Mulaney looks so sick of his own songs and it's only the first take? Yes, yes, let's watch it right now:
Related: Timothée Chalamet and John Mulaney Are "Feuding" Over Their Height
Paris Fashion Week: All the Best Runway Looks for Fall 2019
Simon Porte Jacquemus invited his guests to the south of France via a warehouse on the outskirts of Paris on the first night of Paris Fashion Week. In a square decorated to evoke the countryside, complete with a very Instagramable little market and cute doorsteps, Jacquemus showed chic daywear in powdery and rust hues, with a number of covetable accessories, for which he is quickly becoming known.
Despite a certain toughness in this season's collections (think head-covering bodysuits, parkas, and quilted cape outerwear), Marine Serre's fall collection still retained the romance, especially in her found-fabric patchwork dresses.
Punctuated by bright, almost acid blue, red, yellow, and green hues, the designer Rok Hwang's fall collection felt equally special and new yet classic at the same time. At the classic end of things, this buttery leather trench is a sure winner for fall.
Maria Grazia Chiuri visited the '50s and '60s for Dior's fall collection, with Teddy Boys (a subculture of Brits who wore Edwardian-style dress in the '50s) serving as a starting point, as well as Dior's own work at that time. This chic little knit can easily be worn in this nipped-waist runway style or thrown over a dark-wash jean for a chic everyday look.
While Saint Laurent collections have sometimes felt like they've flashed back to the '80s, Anthony Vaccarello's fall collection offered up beautiful, strong coats with extra-tall shoulders, while '80s-style neon looks comprised the second half of the show.
While the tailoring looks at the start of the show (especially the ones that revealed stitching or details as to how it was made) were gorgeous, one couldn't help but love what was perhaps the most over-the-top look of the relatively pared-back show: a quilted wrap, worn with acid-hue printed pants and shoes, worn by a model with feathers in his hair.

Peter White
Today marked the debut of Bruno Sialelli at the house of Lanvin. For Sialelli, the new look at Lanvin features mostly daywear, with a heavy focus on outerwear, with a touch of a "folkloric" feel. Coats like this one will likely register as a classic buy with a twist, and having Kaia Gerber close the show will likely introduce a new generation to the house which was founded in the early 1900s.

Peter White
As with just about all Dries Van Noten shows, this fall collection had its fair share of colors (violets and turquoise) as well as floral prints. But he both opened and closed his show with chic suits paired with an oversized quilted puffer scarf. This tuxedo look will appeal to even those who aren't die-hard Dries fans.

Yanshan Zhang
For the fall collection, Christophe Lemaire showed at an art school deep in the Marais. The clothes on the runway, which were essentially the school's top floor hallways, featured great outerwear, like this trench, and streamlined, slightly '70s separates.

Estrop
The fall collection by Natacha Ramsay-Levi for Chloe was the epitome of French Girl dressing, complete with great outerwear, cozy knits, and hems of all lengths. If the girls dressed head-to-toe in the audience are any indicator, Chloe fans will be headed to the stores to snap up these pieces, like this silk and velvet dress come fall.

Yanshan Zhang
The energy at Paco Rabanne was palpable. Coming off of one of the most covetable spring collections of last season, Julien Dossena delivered a '70s tinged collection with a heavy dose of glamour, and some military inspiration for good measure. Needless to say, the Paco fans in the audience were delighted.

Estrop
To choose one look from the Y/Project Show is nearly impossible. Should we talk about the pieces we're excited to buy, or the more outlandish looks that can't help but bring a smile to your face as they go by? Let's go with the former, as this basket-weave look seemed at once special and intricate yet super wearable.

Yanshan Zhang
Perhaps a big surprise at the Rick Owens show was the amount of color shown on the runway. Maybe we can interpret this color as a ray of light and hope among all the darkness in the collection?

Victor VIRGILE
There's always a fun feeling of a party about to happen at an Isabel Marant show. While many of the girls did indeed wear party-ready short looks in black with silver detailing, there was also a bevy of printed dresses, like this one with an Americana quilt-like pattern, for day.

Victor VIRGILE
While the most Instagrammed looks of Virgil Abloh's fall show for Off-White was certainly the finale numbers worn by Bella and Gigi Hadid and Karlie Kloss, the outerwear at the beginning of the show perhaps deserves more attention, especially the great pair of leather blazers. Every woman could use one of those in her closet.

Peter White
Jonathan Anderson's Loewe is a space where craft and minimalism co-exist in beautiful harmony, and women are all the more lucky for it. While nearly impossible to choose one best look, the finale look, a white cotton dress dripping in pearls, was the cherry on top to a very covetable collection.

Yanshan Zhang
Old old Celine is back. As in pre-Phoebe, pre-Michael, old old Celine. Twisting the classics of bourgeois French fashion, Hedi Slimane has created a familiar but utterly covetable (and wearable collection). This long short over boot silhouette has cropped up a bit this fashion month, and it is certainly a new shape to try.
The members of Balmain's Army will be wearing studs for fall. Studded jackets, studded sandals—you name it, it's got heavy metal studs.
This up-and-coming label offered up chic pieces that would be welcome in any woman's closet. These wide-leg pants are killer, but the brand also knows how to have some fun, evidenced in all the zebra prints in the collection.
It is impossible to deny the gorgeous leather separates in the fall Hermès collection. One particular look—an Hermès scarf reimagined as a blouse with a black leather skirt with brown leather and contrast stitching detailing—is a chic day look for any age.
Joseph Altuzarra's fall collection was filled to the brim with what girls know and love him for: great dresses, and chic (and practical) outerwear. The paisley and fair isle touches on some looks are sure to be key pieces his fans lust after.
Rei Kawakubo's fall collection for Comme des Garcons featured strong women who looked ready for battle. They wore molded armor, and harsh metal music filled the show space; the designer was clearly responding to all the headlines from America and across the world.
There was great suiting at Akris this season, in both leather and corduroy. The pants in each suit are wide-leg and very covetable.
For his fall collection, Thom Browne certainly introduced a new way to wear a spectacle. The Thom Browne woman is also going back to work; Wwhile there are always theatrics at his shows, there was a lot of great suiting and and this skirt suit.
When there is so much in this fall collection that young women will love, including a thigh-high pink dress and poetic words embroidered and printed on key pieces, at the end of the day, Pierpaolo Piccioli does a gorgeous gown, like this finale look with feather details.
There were so many highlights in the fall Givenchy collection, but this editor's favorites were all of the floral printed plissé dresses and separates with ruffled, romantic collars.
For his fall Balenciaga collection, Demna Gvasalia presented over 100 looks in a dark frills-free space—very different from last season's digital overload. This season is all about shape and silhouette, and this high collar and oversized sleeve is just that bit of newness women will want to add to their closets.
This fall collection by Sarah Burton was inspired by the North of England where she spent her youth, and featured strong tailoring, English roses, and a series of silver dresses perfect for the red carpet.
Karl Lagerfeld's final collection for the house of Chanel was a winter wonderland with lots of tweeds, alpine-style knits, and sweet silk printed dresses with little downhill skiers. A favorite amongst them was a gorgeous white cocktail dress, worn by Kaia Gerber.

GETTY
This fall Louis Vuitton collection was very much rooted in the street, as evidenced by flat shoes and boots of all kinds. The check and leather jacket felt of-the-moment yet cherishable forever, and a white skirt and black tights (something that I thought was off-limits) looked stylish and practical.