Timothée Chalamet and John Mulaney Are "Feuding" Over Their Height
"My wife is in love with this Timothée Chalamet son of a bitch."
---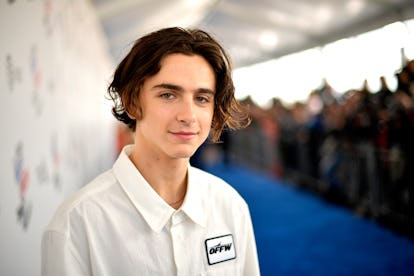 Matt Winkelmeyer
Either you are deeply in love with Timothée Chalamet or you know someone who is deeply in love with Timothée Chalamet. This is just the reality of the post-Call Me by Your Name world that we now inhabit. While the film's box office take was just a fraction of Titanic's, Chala-mania still feels like a slow-burn repeat of the DiCaprio fever of the '90s.
This is all mostly fun and fine for everyone involved, unless, of course, you happen to be already romantically involved with someone who has developed a little bit of a crush on Chalamet. Such is the case for standup comedian and former Saturday Night Live writer John Mulaney. The comedian has been married to makeup artist Annamarie Tendler Mulaney since 2014, but, as evidenced by a clip from Netflix comedy special Seth Rogen's Hilarity for Charity, Tendler's innocent crush on Chalamet is causing a little bit of friction in their relationship.
"My wife is in love with this Timothée Chalamet son of a bitch," rants Mulaney. "It's a joke when she kids me about it, but it's not a joke."
Mulaney goes on to say he's six feet tall ("which is big deal for me"), so when his wife mentions that Chalamet is 6'1″, Mulaney can't let it go to the point that he Googles it himself to find that Chalamet is apparently a mere 5'11" (height anxiety of men who are just or almost six feet is a real thing, people).
Fans, of course, had to know if Chalamet himself had seen the clip, so, as they do, they @'ed him on Twitter.
"Yes I watched it from the gas station," replied Chalamet.
This, of course, mandates that we have to explain yet another Mulaney joke made at Chalamet's success. The standup hosted the Independent Spirt Awards with his frequent collaborator and Big Mouth co-star Nick Kroll, and during the monologue the pair took aim at Chalamet's choice of outfit for the notoriously casual awards ceremony: an Off-White button-up with a logo patch. After Mulaney riffed on yet another joke about how his wife is in love with the young star, Kroll deadpanned, "Timothée, by the way, thanks for taking a break from the gas station to come over here for the awards."
The idea that Chalamet has a part-time job at a Virgil Abloh–branded gas station seems to have lingered as an ongoing meme in the Chalamet fanbase.
Aware that he perhaps had roasted Chalamet one too many times, Mulaney stepped in to offer an apology.
"Chalamet, I joke ONLY because I am an enormous fan, in awe of your talent, & terrified of my own age and mortality," he wrote. "Also it turns out you are 6'0. Please accept my apology. You're a good man and we should do the Amazin Race together if you're free. Im free."
Of course, this all brings us to the non-joking revelation this tongue-in-cheek feud has revealed: that Chalamet is actually six feet tall. Perhaps the only reason many people assumed he was, say, about the size of someone you could fit in your pocket, is that he's spent the better part of the last year walking red carpet with Armie Hammer who is an astounding 6'5″. Just about anyone would look petite next to someone of that height.
In any event, you'll be seeing a lot more of Mulaney and Chalamet in the future, especially on Netflix. Mulaney will host this weekend's episode of Saturday Night Live in advance of the debut of his first Netflix comedy special, Kid Gorgeous at Radio City on May 1. One of Chalamet's next big roles, incidentally, will be for Netflix as well. He'll play a bad-boy English king in an upcoming movie.
Maybe after all that they can find time to do a season of Amazing Race together. Then again, we think we've already seen the film where Chalamet gallivants around Europe with a taller, older buddy.
Related: Timothée Chalamet Facetimed Armie Hammer for Moral Support During The Independent Spirit Awards