Timothée Chalamet Is Going to Play Bad Boy King Henry V in New Film for Netflix
There is some speculation that Robert Pattinson may co-star.
---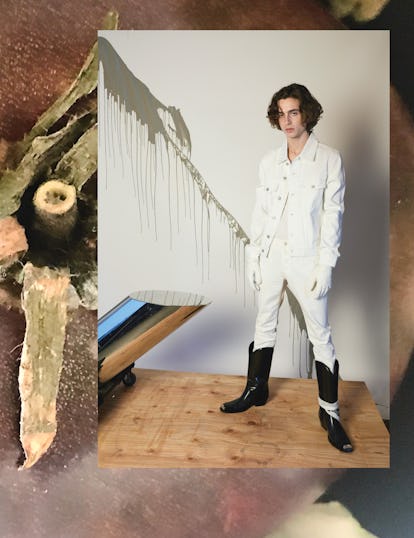 Photographs by Juergen Teller; Styled by Edward Enninful
It seems like man of the moment Timothée Chalamet has spent the last year of his life jetting around the world with Armie Hammer by his side to promote Call Me By Your Name, but it turns out the actor has also been busy planning out his next moves. The actor has already finished filming Beautiful Boy, a drama about a young man's battle with meth co-starring Steve Carrell, and that Woody Allen film with Selena Gomez that may never see the light of day, and now the Oscar nominee is headed to Netflix.
Chalamet will star in director David Michôd's The King, a retelling of the story of King Henry V of England. Brad Pitt's Plan B production is producing the film. Actor Joel Edgerton co-wrote the script with Michôd, and he's described the film as "'Game Of Thrones meets Shakespeare."
Indeed, the project will be loosely based on Shakespeare's plays King Henry IV and King Henry V. In Shakespeare's telling of things, King Henry V, who lived between 1386 and 1422, was something of a bad boy prince who ran with a bad crowd and, somewhat ironically in our modern view, went by the nickname of "Prince Harry." Indeed, he wasn't even born directly into the line of succession, and it wasn't apparent that he'd someday be crowned King until a coup put his father in power.
According to Deadline, the film will follow Henry V from the moment his brother is killed in battle and he learns he'll be king (though, in actuality, it was his father who was killed). "The reluctant ruler wears the crown at a time when England was near a war with France, and the empire is teetering. He rises to the occasion, admirably," reports the site. Earlier reports during work on the script also indicates the film may deal with how the king was "tricked" into invading France based on false intelligence (perhaps this is all just a George W. Bush parable?).
There is some speculation that Robert Pattinson may co-star. Indeed, he is the only other actor listed on IMDB at the moment. Though, that appears to stem from a comment he made during a press conference at Cannes, in which he said he might be working with Michôd on a future project. So don't necessarily hold your breath on that one.
As for Chalamet, we'd be remiss if we didn't point out that below is the portrait of King Henry V that hangs in the Royal Collection. No word on whether or not Chalamet will end up sporting a similar hairstyle.
Related: Timothée Chalamet Thinks 'Date' Is "Very Much a Scary Word"