Woody Allen's A Rainy Day in New York Might Not Be Released After All—But It Sure Has Been a Great Fundraiser for Time's Up
Bad news for his everlasting sidekick Diane Keaton, but definitely good news for its stars, Timothée Chalamet and Selena Gomez.
---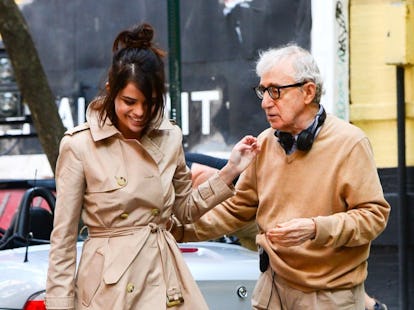 A Rainy Day in New York, 2018
Maybe it's because Louis C.K. cursed him by citing him as an influence, or maybe it's because, after decades and decades, women's stories of sexual assault and harassment are finally beginning to ring true. But Woody Allen and his upcoming film seem to be facing the same fate as C.K. and his ultimately unreleased film I Love You, Daddy—which is to say, a quiet demise. In a new report by Page Six, sources, including a film industry executive, are now saying that the film "will either not come out or [will] get dumped by Amazon without any P.R. or theatrical release."
At any rate, it seems that the the film won't be a box office success. But it has turned out to be a moneymaker in another way: So far, Rebecca Hall, Timothée Chalamet, and Selena Gomez have all donated their salaries from starring in the film to the anti-harassment initiative Time's Up. Chalamet, in fact, spread his funds a bit further: He also donated to the NYC LGBT Center and the Rape, Abuse, and Incest National Network (RAINN), perhaps because of his guilt for not speaking out sooner. (Shortly before his announcement, the actor reportedly took advice from Greta Gerwig, who, following her own directorial debut with Lady Bird, faced a barrage of questions of her past decision to be directed by Allen—one that she finally conceded to address earlier this month, saying that she will never work with him again.)
Amazon is due to release the film later this year, though it would hardly be a surprise if it didn't make it beyond streaming or VOD platforms. In the same vein as I Love You, Daddy, which was about a relationship between a 68-year-old man and a 17-year-old girl, Rainy Day is reportedly about a middle-aged man, played by Jude Law, who has sex with "much younger women," including his so-called "concubine," a 15-year-old played by Elle Fanning.
Oddly enough, this plot line was revealed just as the Harvey Weinstein scandal was breaking, though stars are only speaking out about it just now. One studio head minced no words in pointing out as much to Page Six: "Where were these champions before [last] October? It's pathetic that it took the #MeToo movement for these actors to grow a pair of balls. It's embarrassing that Allen's been revered by Hollywood for years and constantly nominated for awards."
At long last, though, Allen's heyday finally seems to be coming to an end. The film executive also told Page Six that Allen has been "having trouble casting his new film." Outside of Rainy Day, even more actors have also recently expressed regret about working with the director in the past, including Colin Firth, Ellen Page, David Krumholtz, Rachel Brosnahan, and Chloë Sevigny. So did Mira Sorvino, in an open letter apologizing to Farrow.
At this point, even some of Allen's staunchest supporters are beginning to (sort of) disassociate with him. Kate Winslet, who spent her time promoting Allen's recent film Wonder Wheel without mentioning the controversy and even made a point to say that on some level, Allen "is a woman," and at the very least "understands" female characters. At the London Critics' Circle Film Awards on Sunday, she acknowledged having "bitter regrets" in making "poor decisions to work with individuals with whom I wish I had not."
Though Winslet did not address Allen by name—few would deny how difficult it is to publicly condemn a longtime friend—it does seem like she's preparing herself to getting to that point. "It has become clear to me that by not saying anything, I might be adding to the anguish of many courageous women and men," she continued. "Sexual abuse is a crime. While it rests with the rule of law to pass judgement, it lies with all of us to listen to the smallest of voices and to never stop listening."
Unsurprisingly, Alec Baldwin is one of the few who's got Allen's back these days. (Though the comparison he chose to make might actually be harming the director's case.) Sadly also somewhat unsurprising is the continued support of Allen's longtime star and sidekick, Diane Keaton, who once again came to his defense as recently as this Monday.
Still, the silence from others is deafening. Lately, all eyes seem to be on Winslet's costar in Allen's latest film, Justin Timberlake in particular—largely because he wore a Time's Up pin on the stage at the Golden Globes. No worries, though, if you missed such a minuscule gesture: Farrow has definitely got your back.
Related: It Took Nearly Three Decades, But Dylan Farrow's Story of Her Father Woody Allen's Sexual Misconduct Is Finally News