Kate Winslet Says Woody Allen "Understands" Female Characters
Celebrities continue to skirt the topic of Woody Allen's alleged history of sexual abuse.
---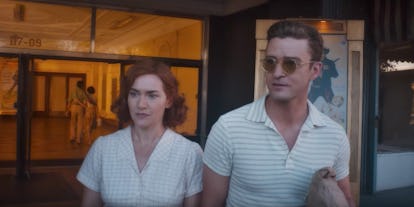 via YouTube/Amazon
Kate Winslet has spoken about her disdain for Harvey Weinstein and cites his "disgraceful, despicable behavior" as a reason for why she did not thank him during her 2009 Best Actress Oscars acceptance speech after she won the Academy Award for her performance in The Reader. Yet when it comes to discussing the sexual assault claims made against Woody Allen, Winslet has shied away from commenting on the filmmaker's behavior and in the Sydney Morning Herald went so far as to shift the discussion towards the way Allen writes female characters.
The Morning Herald reports that she jokingly asserted, "I think on some level Woody is a woman," before launching into a more serious commentary on the filmmaker's abilities to write women into his stories. "I Just think he's very in touch with that side of himself. He understands the female characters he creates exceptionally well. His female characters are always so rich and large and honest in terms of how they're feeling and he just knows how to write dialogue for them to communicate all that," Winslet told the Morning Herald. Winslet stars in Allen's new 1950s period drama Wonder Wheel, about a waitress who is married to a ferris wheel operator on Coney Island.
Allen's adopted daughter, Dylan Farrow, has claimed that she was molested by Allen when she was seven, and has repeatedly told the story for over two decades. Farrow recently penned an op-ed in the Los Angeles Times questioning why Allen remains an unscathed figure in Hollywood with the successful release of Wonder Wheel and his Amazon Studios distribution deal. During Farrow's legal case, a prosecutor declined charging Allen—even though there was probable cause—in order to spare Farrow from "an exhausting trial." Farrow writes that this very simple fact of the case has become increasingly complicated, as Allen's legal team has worked hard to keep that information out of sight, making space for the allegation to be referred to as a grey area by many actors and celebrities, when it is actually a cut and dry case of "grossly inappropriate" behavior committed by a grown man against a child.
Several actors continue to work with Allen—including Winslet's Wonder Wheel co-star Justin Timberlake, as well as young stars Selena Gomez and Timothée Chalamet, who will play romantic leads in an "Untitled Woody Allen Project" next year—and many of them will not directly comment on the allegations whenever the question of why they choose to work with Allen comes up in interviews. Farrow remarked in her op-ed, "It breaks my heart when women and men I admire work with Allen, then refuse to answer questions about it."
Ronan Farrow, Dylan's brother, reported last year in The Hollywood Reporter that Allen's publicity team is vigilant about attacking those who are vocal about the allegations whenever the question is summoned. In her op-ed, Dylan Farrow calls these celebrities out for saying that the subject matter is too "difficult" or "dangerous" to address, and applauds Ellen Page for courageously referring to Allen's film To Rome With Love as the "biggest regret" of her career, and Jessica Chastain and Susan Sarandon for opening up about why they will not work with Allen. A-list stars who will now speak out about Weinstein, but keep mum about Allen are likely intimidated by the scare tactics and abuse of power enforced by Allen's legal and publicity teams, but as time passes, if more performers are able to speak out against Weinstein and his crimes, hopefully more celebrities will take the lead on speaking out against Allen, and fewer will skirt the topic by complimenting his screenwriting skills.
Related: "I Will Not Be Silent": Nicole Kidman, Jennifer Lawrence, and Emma Stone Make a Pledge to Speak Up Against Sexual Assault