Kate Winslet and Justin Timberlake Deal with 1950s Gangster Drama in Trailer for Woody Allen's Wonder Wheel
It's a lot of summertime sadness.
---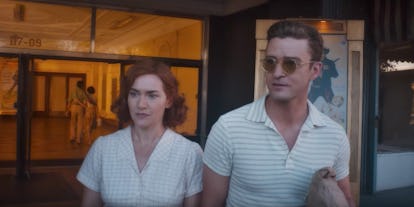 via YouTube/Amazon
If you've ever wanted to see a redheaded Kate Winslet do a 1950s Brooklyn accent, Justin Timberlake strut in a selection of those old timey one-piece men's bathing suits, former ABC sitcom dad Jim Belushi in a serious role, or a mini-reunion of supporting players from The Sopranos, well, boy, is the trailer for Wonder Wheel the thing for you.
Yes, the trailer for Woody Allen's latest film has all that and more.
Set in the 1950s on the Coney Island boardwalk, Wonder Wheel finds Winslet as Ginny, a clam house waitress who is married to Belushi's Humpy, a ferris wheel operator (thus explaining the name). They're just working-class people making their way through life until the husband's long lost daughter from a previous relationship, Caroline, shows up. Juno Temple stars as the prodigal daughter, who, as it turns out, had married a rich mobster and lived the good life until something went wrong, and now apparently people are trying to killing her. Keeping with that mafia theme, Sopranos alum Tony Sirico, Steve Schirripa and Max Casella also show up. Debi Mazar figures in, too, for good measure.
Betrayal and passion promise to ensue. It's not entirely clear from the trailer how Timberlake's lifeguard Mickey has secret dreams of being a playwright, and he may or may not have something going on with Winslet's Ginny.
The film is already getting some Oscar buzz for Winslet (though, to be fair, it seems almost everything Winslet does gets some amount of Oscar buzz), and the star has said it's one of her toughest roles yet.
"There was not one single moment that I was not utterly terrified," she told *EW*. "It's an incredibly complicated character—maybe the most complicated female character I've ever had the challenge of grappling with."
Of course, one can't talk about a Woody Allen project without mentioning the allegation of child abuse that resurfaced in 2013 surrounding the release of his film Blue Jasmine. Yet, several stars, including Miley Cyrus, Selena Gomez, Jude Law, Kristen Stewart, Emma Stone, Steve Carrell, and Colin Firth have continued to work with the director since.
The film, an Amazon production, will premiere on October 14th as the closing film of the New York Film Festival, and will roll out to the wider public on December 1st.
Related: Twenty Years After Titanic, Kate Winslet to Reunite with Director James Cameron on the New Avatar
Juno Temple Does ASMR: "Quietly" Channeling Blondie: