Twenty Years After Titanic, Kate Winslet to Reunite with Director James Cameron on the New Avatar
Twenty years after Titanic, Winslet is finally ready for another James Cameron epic.
---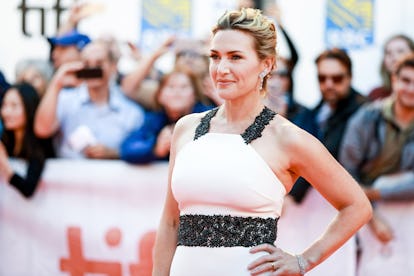 Rich Fury/Getty Images
It's been 20 years since the juggernaut that is Titanic launched its stars, Kate Winslet and Leonardo DiCaprio, into the celebrity stratosphere, while earning a Best Actress Oscar nomination for Winslet. So it's a fitting anniversary, a nice round number, for Winslet and Titanic director James Cameron to team up again, this time on the sequel to Cameron's science fiction epic Avatar.
On Tuesday afternoon, Cameron and Winslet announced the actress has joined the upcoming Avatar installment—or installments, for, as Vanity Fair pointed out, it's not clear in how many of the sequels Winslet might appear; the first of four will premiere in 2020—playing a character named Ronal.
Cameron insisted that he and Winslet had been seeking a follow-up collaboration to Titanic ever since it premiered two decades ago, calling the film "one of the most rewarding of my career," according to Deadline. Winslet, for her part, has been slightly more restrained in her praise of the breakout film. Over the past two decades, the actress has not been shy about discussing the more harrowing elements of shooting Titanic, including a bout of the flu she contracted after drifting in cold water for hours on end to shoot the film's iconic final scene.
"He has a temper like you wouldn't believe. As it was, the actors got off lightly. I think Jim knew he couldn't shout at us the way he did to his crew because our performances would be no good," Winslet told the Los Angeles Times in 1998, according to the Telegraph. "He's a really tough nut to crack—there were times I was genuinely frightened of him." And time, apparently, did little to numb Winslet's less-than-flattering recollections of shooting the film: During Titanic's 2012 re-release, she told MTV the theme song made her "feel like throwing up." Now that it's been 20 years, though, they're ready to try again.
Cameron responded to Winslet's various statements by telling Moviefone, "It's been 16 years, like, come on, Kate. Get over it. Take the win, girl!" (Winslet has also, more recently, walked back some of her comments: "Yes, he lost his temper," she said during the film's 3-D release in 2012, according to Digital Spy, "but he only ever lost his temper for really, really good reasons.")
Of course, the net positive to emerge from Winslet's work on Titanic was her relationship with Leonardo DiCaprio, with whom she appeared again in Revolutionary Road in 2008. "They were really there for each other," Cameron told Rolling Stone in 1998. "On a long shoot, especially as you get into, like, month five, you're just in a siege." But unfortunately for Jack-Rose stans, Winslet recently admitted she and DiCaprio "never fancied each other."
As she told ITV earlier this month, "I know that's really annoying to hear, sorry, but we really never did." Still, they quote Titanic lines at each other on occasion, and Winslet even solicited DiCaprio's advice (hard-won from the set of The Revenant, in spite of climate change) for how to stay warm on the set of her new film, The Mountain Between Us.
One can only hope that, with Avatar, Winslet is making the "lot of money" that, in 1998, she told the L.A. Times was her condition to work with Cameron again—or else that Cameron casts Winslet's Titanic co-star, stat.
Photographers "always ask" Kate Moss to take her clothes off: