Kate Winslet Got Advice From Her BFF Leonardo DiCaprio for Her New Role in The Mountain Between Us
Kate Winslet asked Leonardo DiCaprio for advice on weathering the cold during the shoot for 'The Mountain Between Us,' which also stars Idris Elba
---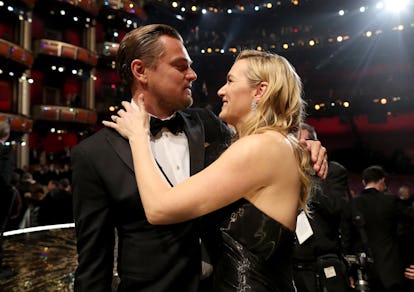 Christopher Polk/Getty Images
Titanic, the greatest film ever made, may be twenty years old, but the bond between its two leads is as strong as ever. So much so that Kate Winslet called Leonardo DiCaprio for advice before she took on her latest role. In The Mountain Between Us, Winslet and Idris Elba play (sexy) strangers stranded on a snowy peak after a plane crash, and unlike some simulated disaster movies, it was shot in the actual cold. Since DiCaprio had to brave some pretty harsh conditions for his role in 2015's The Revenant, he knew what to warn Winslet about. As she explained to E! News:
"[Leo and I] did speak before filming and he did sort of say to me, 'Oh my god, you are crazy. It's going to be freezing cold. Do you honestly know what you are sending yourself up for?…I would send him little photos of me saying, 'Thinking of you,' as I'm lying in the freezing snow covered ice and he would just send back slightly worried emojis."
The two stars, who both went on to mega-fame and won an Oscar apiece in the years since filming Titanic, are notoriously close. Asked if she would consider boycotting the Academy Awards after the #OscarsSoWhite controversy of two years ago, Winslet said that she'd never consider not attending, because she had to support her friend. DiCaprio has called Winslet his "homegirl" and she's called him "the love of [her life],".
The pair also reunited on-camera in 2008's Revolutionary Road, directed by Winslet's then-husband Sam Mendes. So, if we got Titanic in '97 and Revolutionary Road in '08, it's about time for another reunion, right? Winslet recently wrapped Woody Allen's The Wonder Wheel and DiCaprio is signed on to star in The Black Hand, but after that they should have time to squeeze in another picture together. Anyone else picturing a remake of From Here To Eternity?
Related: Having Confiscated Leonardo DiCaprio's Oscar, the Department of Justice Is Now Eyeing Miranda Kerr's Diamonds
A Photographic Guide To Everyone Leonardo DiCaprio Has Publicly Dated
Leonardo DiCaprio dated model Kristen Zang for a year back in the '90s, where she acted as his date to the premiere of Romeo & Juiet.

Getty
Perhaps DiCaprio's most famously ex is Gisele Bündchen, whom he dated from 1999 to 2005.

Getty
The pair were serious for nearly six years, often spotted walking their dogs together.

Getty
The pair also often took in sporting events, a popular past time for DiCaprio and his girlfriends.

Getty
After splitting with Bündchen, DiCaprio moved on to Isreali model, Bar Rafaeli. The couple made a rare high profile appearance together at Berlin's Annual Cinema For Peace Gala in 2010.

Getty
The couple often took in basketball games, sitting courtside, of course, making for a few rare moments of DiCaprio allowing himself to be photographed with a girlfriend. Here, they watch the Lakers in 2010.

Getty
The pair dated for six years—the exact duration of his relationship with Bundchen—before splitting in 2011.

Getty
And again, the same year, DiCaprio shielded by a hat, as has become his fashion go-to.

Getty
In 2014, DiCaprio was spotted at the amfAR Gala in Cannes with his new lady, Toni Garrn, whom he dated for just over a year.

Getty
Before eventually getting together with Nina Agdal—whom he was never photographed with at a high profile event like a few of his other girlfriends—the actor dated a model Kelly Rohrbach in 2015, during which the pair were spotted together at the US Open. Agdal would go on to star in this weekend's Baywatch, while DiCaprio would continue to date models.

Getty
Tangerine Actress Mya Taylor Loves That 'Titanic' Love Scene, Too: