Leonardo DiCaprio and Kate Winslet Quote Their Lines From Titanic to Each Other
They'll stay forever this way.
---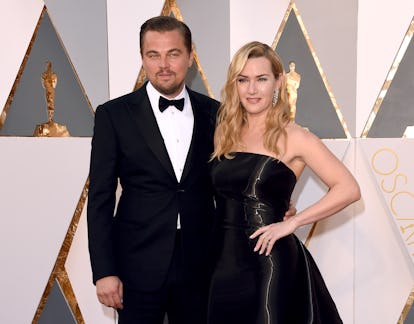 Jason Merritt/Getty Images
We finally have confirmation that Leonardo DiCaprio and Kate Winslet's real-life friendship is exactly what the world has always hoped.
In a recent interview with Glamour UK, cover star Winslet opened up about her BFF of two decades DiCaprio (the duo met on the set of Titanic, obviously, which premiered to the world in 1997), and to this day, the pair is as close as ever. Winslet even confirmed to the publication that their conversations often hark back to their humble beginnings aboard that doomed vessel.
"You don't even want to know the last conversation we had, because it was so funny and made me laugh so much," Winslet revealed. "We found ourselves saying to each other, 'Can you imagine if the world really knew the stupid things we say?' I'm not going to tell you what we actually talk about, but yeah, we're very, very close and sometimes we do quote the odd Titanic line back and forth to each other, because only we can, and we find it really funny." Be still my heart of the ocean.
For years, we've watched the two celebs spend quality time together through a paparazzi lens or at an awards show, on the other side of our television screens. While they were never romantically linked, we will still forever see the friends as Jack and Rose—deep down. The pair was most recently spotted vacationing together in St.-Tropez, on the French Riviera, and at DiCaprio's annual Foundation Gala, held on July 26, where a private dinner with DiCaprio and Winslet was actually auctioned off for charity.
And now we know for sure: The heart does, in fact, go on.
Related: Inside Leonardo DiCaprio's Insane Saint-Tropez Gala with Madonna and Kate Winslet
More on Leonardo DiCaprio's notorious dating history: