Selena Gomez's Mom Tried to Convince Her Not to Work With Woody Allen
"No one can make Selena do anything she doesn't want to."
---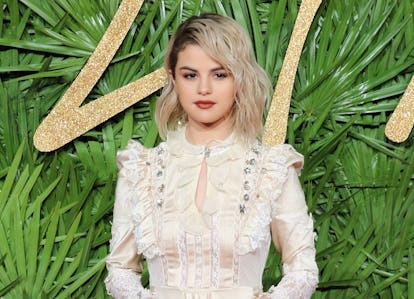 Photo by Yunus Dalgic/Anadolu Agency/Getty Images
The seemingly endless saga of disagreements between Selena Gomez and her mother Mandy Teefey further unfolds, this time in regards to Gomez's starring role in an upcoming Woody Allen film.
Gomez's mother and former manager, who also serves as an executive producer on Gomez's successful Netflix series 13 Reasons Why, has publicly stated that while no specific person from her team is to blame, Gomez simply will not listen to those who have already brought up the issue of working with Allen, and the sort of message it might send. When asked by a commenter on an Instagram post if she could ask Gomez to apologize for her involvement in the upcoming Woody Allen film, A Rainy Day in New York—a film from which her co-star Timothée Chalamet recently announced he refuses to profit—Teefey replied that she has already spoken with her daughter about working with Allen, and Gomez did not budge.
Since signing the Time's Up initiative pledge with 300 other women, many fans of Gomez have expected her to break any silence on the issue of sexual assault and inequality in Hollywood, especially as it pertains to her work with Allen after the publication of multiple letters penned by Farrow. As her co-star Chalamet announced that due to "contractual obligations" he is unable to directly answer questions about his decision to work with Allen, he later revealed that he will donate his entire salary from the film to Time's Up, RAINN and the LGBT Center in New York, making him the second actor from that film to refuse to profit from working on it. According to Gomez's mother, she is more than aware of the implications of working with a director accused of sexual assault.
"Sorry, No one can make Selena do anything she doesn't want to. I had a long talk with her about not working with him and it didn't click. Her team are amazing people. There is no fall person here. No one controls her. She makes all her own decisions. No matter how hard you try to advise. It falls on deaf ears," Teefey wrote in her comment, responding to the users asking Gomez to apologize for working with a director who has been accused by his daughter Dylan Farrow of molesting her when she was a child.
Another follower commented on Teefey's Instagram,"We're tired of defending her. Her team never does anything to help clean her image. I'm sorry for this Mandy but we love her so much and we can't do it anymore," while other commenters accused Teefey of "throwing her daughter under the bus" for publicly revealing on Instagram that she advised against working with Allen, only to be ignored by her daughter. Teefey's concerned response, however curt, should not come as a shock to those who have been following the back and forth of misunderstandings between mother and daughter. "Selena is an adult and can make her own choices," Teefey recently said to Gossip Cop in response to questions about her negative opinions on her daughter's relationship with Justin Bieber.
Related: Selena Gomez's Mom Says Her Daughter"Can Make Her Own Choices," But She's Still Not Thrilled About Justin Bieber
"I Will Not Be Silent": Hollywood's Biggest Names Pledge to Speak Their Minds