Timothée Chalamet Will Donate Salary From Upcoming Woody Allen Film to 3 Charitable Initiatives
The young actor revealed in an Instagram post that he wishes not to profit from working with Allen, and will instead donate his salary to Time's Up, the LGBT Center in New York, and RAINN.
---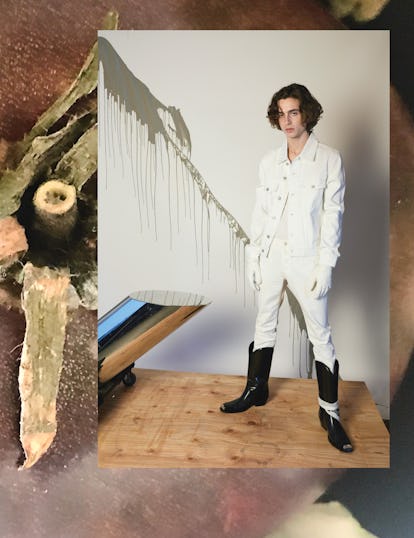 Photographs by Juergen Teller; Styled by Edward Enninful
Timothée Chalamet joins the ranks of celebrities who have recently announced they regret working with Woody Allen. The Call Me By Your Name actor revealed in an Instagram post that he will no longer profit from his upcoming film with the director, who has been accused of sexual assault by his daughter Dylan Farrow.
Recently, director and actress Greta Gerwig announced that she wishes she would have never starred in the 2012 Allen film To Rome With Love and had she been more aware of the allegations by Farrow, she would not have chosen to work with Allen and never will again. Actress Ellen Page also stated in November 2017 that working with Allen in the past was the "biggest regret" of her career. There is also actress Mira Sorvino, who stated her regret for working with Allen on Mighty Aphrodite and publicly apologized to Farrow. On Twitter, Farrow has sent out heartfelt thank you messages to the actors and actresses who have voiced their support of her, and their regret of working with Allen.
Rebecca Hall, who stars in the upcoming Allen film A Rainy Day In New York with Chalamet and Selena Gomez, worked just one day on the project but has decided to donate her salary from the film to the Time's Up initiative. It would appear that Chalamet is following in Hall's footsteps, as he will be fully donating his salary to Time's Up, just as Hall has announced she will donate her salary from the film, and will also donate to RAINN (Rape, Abuse & Incest National Network), the largest anti-sexual assault organization in the United States, and The LGBT Center in New York which serve's the city's LGBT population with access to healthcare, wellness and community.
On Instagram, Chalamet wrote that because of "contractual obligations" he cannot answer the incessant interview questions about his decision to star in Allen's upcoming film (and this could be a reason why his co-star Gomez has yet to publicly comment on her starring role as well), but that he does not wish to profit at all from his work on this project.
Related: Rebecca Hall Is Donating Her Salary From An Upcoming Woody Allen Film To Time's Up