It Took Nearly Three Decades, But Dylan Farrow's Story of Her Father Woody Allen's Sexual Misconduct Is Finally News
In the wake of recent support from the likes of Natalie Portman and Reese Witherspoon, Farrow retold the story of harassment she's been repeating since she was seven years old on CBS This Morning.
---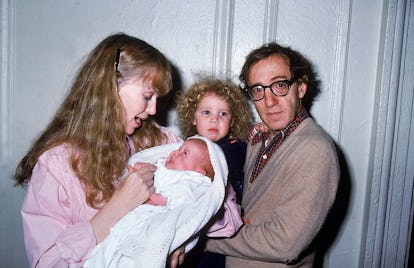 David McGough/Getty Images
The story that Dylan Farrow, Woody Allen and Mia Farrow's now 32-year-old daughter, told Gayle King on CBS This Morning, which early on Thursday, is by all accounts old news; she's been repeating it ever since she was seven years old, when she first said that Allen sexually assaulted her. And though she's been saying it for decades, including in a 2014 open letter in the New York Times, her words are starting to resonate: In the last few weeks, names as prominent as Natalie Portman, Reese Witherspoon, Shonda Rhimes, and Tracee Ellis Ross have all said that they believe Farrow; Greta Gerwig has said she wished she hadn't worked with the director and won't do so again; and actors Timothée Chalamet and Rebecca Hall have donated their salaries from starring in Allen's films to anti-abuse charities.
That's because though the content of Farrow's story hasn't changed, the context certainly has. The post-Harvey Weinstein reckoning that's seen powerful, popular men finally held accountable for their actions is still very much alive, with a continued flood of #MeToo stories and the publicity-heavy founding of the Time's Up anti-harassment initiative. Add to that that this was Farrow's first TV interview, which brought tears as well as more explicit descriptions of what's she said has happened, and the gravity of Farrow's story is finally ringing true—and just maybe bringing an end to Allen's prolific film career in the process. (Or, at the very least, his ability to attract star power.)
Farrow begins the interview by saying, "I loved my father. I respected him. He was my hero. And that doesn't obviously take away from what he did. But it does make the betrayal and the hurt that much more intense." Then, upon King's request, Farrow told her story for the nth time: On August 4, 1992, her father took her to a small attic crawl space in her mother's country house in Connecticut, where Farrow said he "instructed me to lay down on my stomach and play with my brother's toy train that was set up. And he sat behind me in the doorway, and as I played with the toy train, I was sexually assaulted."
When King pressed for details about what exactly that meant, Farrow said that "as a seven-year-old … I would have said he touched my private parts." But "as a 32-year-old, he touched my labia and my vulva with his finger"—an experience Farrow told her mother about at the time, who took her to a doctor. Farrow first pointed to her shoulder when asked where Allen had touched her, telling her mother she was "embarrassed" when she asked her why she didn't tell him what she had told her. Farrow then went back to the doctor and told him what she'd told her mother—which aided Allen's later defense that Mia Farrow was "coaching" their daughter to get revenge on him.
The reason Mia Farrow would even want to get revenge on Allen, though, supports Farrow's case: Mia was understandably upset when Allen confessed to having an affair with her adopted daughter, Soon-Yi Previn, after she found graphic nude photos of the then-21-year-old displayed on the mantle in his apartment. (Allen and Previn eventually married in 1997, and now have two adopted children of their own.) As Farrow put it to King, "What I don't understand is how is this crazy story of me being brainwashed and coached more believable than what I'm saying about being sexually assaulted by my father?"
After all, the attic incident wasn't the first time Mia had concerns about Allen's conduct around Farrow: The 1992 Vanity Fair article that claimed to be the first to tell Mia's story began with the sentence: "There was an unwritten rule in Mia Farrow's house that Woody Allen was never supposed to be left alone with their seven-year-old adopted daughter, Dylan." In fact, in the more than two dozen interviews conducted for the story, "Allen was described over and over as being completely obsessed with the bright little blonde girl. He could not seem to keep his hands off her. He would monopolize her totally, to the exclusion of her brothers and sisters, and spend hours whispering to her."
The story also quotes Mia's mother in saying that she witnessed the "definitely weird" sight of Allen rubbing his finger in the crack of a four-year-old Farrow's buttocks—and alleged that Allen would follow Farrow from room to room and stare at her. Farrow brought up that last part to King, too: "He would follow me around. He was always touching me, cuddling me and if I ever said, you know, like I want to go off by myself, he wouldn't let me … He often asked me to get into bed with him when he had only his underwear on and sometimes when only I had my underwear on."
Allen was never charged with a crime; New York state child welfare investigators and the Yale New Haven hospital found that the abuse did not happen. But the Connecticut state prosecutor, Frank Maco, who was working on the case, questioned the Yale New Haven report's credibility, maintaining that there was probable cause to charge Allen, but that Farrow was too fragile and, as she put it, "already traumatized" to face a trial. "Even if I'm just speaking in retrospect," Farrow told King, "I do wish that they had [filed the charges]." Indeed, when CBS reached out to Maco for Farrow's interview, he said that "there was no manipulation by Mia Farrow," and that nothing in the state police investigation indicated that she was in any way controlling or manipulating her daughter.
Still, in his statement to CBS, Allen cited both the child welfare and Yale reports, claiming that "they found it likely a vulnerable child had been coached to tell the story by her angry mother during a contentious breakup." He then went on maintain that, "as all investigations concluded a quarter of a century ago," he never molested his daughter, whom he then accused, along with the rest of the Farrow family, of "cynically using the opportunity afforded by the Time's Up movement to repeat this discredited allegation." The 82-year-old director seems to have missed the memo that Time's Up's biggest names, like Witherspoon, not only actually publicly support Farrow, but are also now, decades past his heyday, some of the industry's most highly paid, powerful names.
Related: Mariel Hemingway, Then 16, Was Terrified of Her Kissing Scene with Woody Allen in Manhattan