Chloë Grace Moretz Will Not Promote "I Love You, Daddy" Following Louis C.K. Allegations
Five women have made accusations against the comedian.
---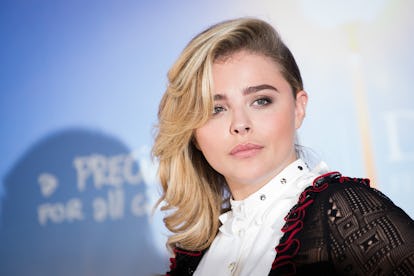 Francois G. Durand/Getty Images
Chloë Grace Moretz, the star of Louis C.K.'s new comedy, I Love You, Daddy, will no longer be promoting the film following sexual misconduct allegations against the 50-year-old comedian.
On Thursday, The New York Times published an article detailing sexual misconduct allegations by five women against Louis C.K. Comedians Dana Min Goodman, Julia Wolov, Abby Schachner, and Rebecca Corry, along with one unnamed woman, accused him of inappropriate behavior that includes masturbating in front of them without their consent.
Moretz's decision, however, was not in response to the Times story. According her publicist, Moretz ceased all promotion for the film two weeks ago, "when she was made aware of numerous possible accusations," the Los Angeles Times reported.
In I Love You, Daddy, Moretz plays the teenage daughter of Louis C.K.'s character, who tries to stop her beginning a relationship with a 68-year-old film director (John Malkovich). Disturbingly, the film includes a scene in which a character played by Charlie Day mimes masturbation while discussing a woman with C.K.'s character, according to the Los Angeles Times. Day has since decided to stop promoting the film as well. "I was as appalled as everyone to read the allegations made in The New York Times," he told the Los Angeles Times. "I do not condone sexual misconduct and, in light of the allegations, will not be promoting the movie further."
I Love You, Daddy has also been dropped by its distributor, canceling the premiere hours before The New York Times story broke, according to Vulture. Meanwhile, the Los Angeles Times reports that HBO said it would remove all past Louis C.K. projects from its on-demand services; it also reported that FX said in a statement it is reviewing its relationship with the comedian. Netflix has also reportedly dropped a planned stand-up comedy special with Louis C.K.
In a statement to The New York Times, Louis C.K.'s publicist said the comedian would not be responding to the allegations.
Moretz, for her part, has not been afraid to criticize projects she's taken part in before. Earlier this year she slammed "body shaming" marketing that was used to promote her animated children's film Red Shoes and the Seven Dwarfs.
Related: Comedians Respond to Sexual Harassment Claims Against Louis C.K.
Chloë Grace Moretz Takes W's Screen Test: