Comedians Respond to Sexual Harassment Claims Against Louis C.K.
Comedians on Twitter react to the The New York Times report that five women have been sexually harassed by comedian Louis C.K.
---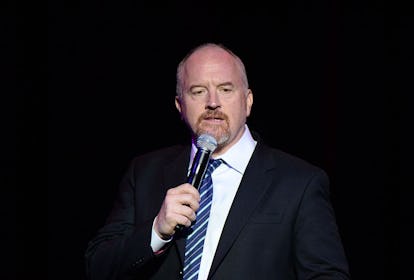 Kevin Mazur/Getty Images
The New York Times broke a piece today where five women claim on the record that comedian Louis C.K. sexually harassed them by masturbating or requesting to masturbate in front of them without their consent. According to the report, an anonymous woman told the Times about working on The Chris Rock Show in the late '90s, during which Louis C.K. repeatedly requested that she watch him masturbate. Comedians Julia Wolov and Dana Min Goodman report that in 2002, C.K. brought them to his hotel room in Colorado, and masturbated in front of them. Often an integral part of his stage routine, masturbation is also a topic C.K. consistently brings up in interviews about his work.
Abby Schachner details a time in 2003 when, while on the phone with C.K., he began to masturbate, and in 2005 Rebecca Corry was asked by C.K. to watch him masturbate in front of her while working on a series produced by Courteney Cox and David Arquette. Corry informed Cox of the incident, who told the Times that she felt "outrage and shock" at what happened on set. While Cox told the Times her "concern was to create an environment where Rebecca felt safe, protected and heard," Corry decided not to halt production because she worried at the time that it might ruin her career.
C.K. is lauded as a comedy king; he is one of the most powerful working comedians and his scope of influence in the comedy world is so wide that many of the women he harassed felt that speaking out might ruin their chances at a successful career. After telling others about their encounter with C.K., Wolov and Goodman said that they "could already feel the backlash" of telling the truth not one full day after the incident. Louis C.K.'s manager Dave Becky—who also represents Kevin Hart, Aziz Ansari and Amy Poehler—then allegedly threatened the two comedians to keep quiet.
Emails from comedian Tig Notaro are included in the Times report, where she claims she has felt "trapped" by her connections with Louis C.K., ever since his website promoted her comedy album in 2012. After her Amazon series One Mississippi—executive produced by C.K.—was sold, she learned about his sordid relationship with women. "Sadly, I've come to learn that Louis C.K.'s victims are not only real, but many are actual friends of mine within the comedy community," said Notaro, adding that she suspects C.K.'s involvement in the release of her 2012 comedy album was a tactic to make him appear as a person who respects women.
This afternoon, Twitter was aflutter with rumblings that there would be a forthcoming report in the Times concerning allegations against Louis C.K. Writers and comedians who had seen The Hollywood Reporter's suggestion that there would be news explaining why Louis C.K. abruptly canceled the premiere of I Love You, Daddy and his upcoming appearance on Late Night with Stephen Colbert shared their anticipatory thoughts on Twitter.
I Love You, Daddy, which is about a television writer whose 17-year-old daughter falls for a 68-year-old filmmaker, is an homage to Woody Allen's film Manhattan and was filmed secretly last summer. Aside from both films' monochromatic aesthetic, clear narrative parallels can be drawn between the two, as both films focus on the relationship between a 17-year-old girl and a much older man. The decision to release I Love You, Daddy at a time when investigations are being launched into the stories from women alleging that they were sexually assaulted by Harvey Weinstein, Brett Ratner, James Toback and Kevin Spacey was already in poor taste, and C.K.'s performance in the film had already generated controversy around his character's use of the N-word and cavalier attitude towards predatory behavior.
Hardly anyone was surprised by the Times interviews; for years existing reports about Louis C.K. and his alleged sexual misconduct have circulated widely in the media. Gawker ran a blind item that was allegedly about C.K. in 2012, and three years later comedian Jen Kirkman referenced a nameless comedian as a "known perv." Later that year, Gawker's Hollywood gossip site Defamer ran more tips claiming that a comedian understood to be C.K. masturbated in front of non-consenting women. Throughout this year's press tour for I Love You, Daddy, C.K. has consistently refused to address the allegations against him from the past five years.
While writers and comedians were collectively appalled to learn of the five stories revealed in the Times report, no one's reactions read as surprised. As soon as the Times released its report of five women alleging that Louis C.K. had behaved towards them in a sexually explicit and inappropriate manner, comedians took to Twitter to share their reactions to the news, most of which bore an attitude that could only be described as the complete opposite of shock.
The allegations against Louis C.K. are the latest in the string of sexual assault claims against Hollywood figures, including Gossip Girl's Ed Westwick and Ratner, and are unlikely to stop anytime soon as more victims feel empowered to come forward and share their testimonies.
Related: Harvey Weinstein's Army of Spies is Proof of How Powerful Men Get Away with Sexual Harassment Without Repercussions
See W's most popular videos: