Gossip Girl Star Ed Westwick Has Been Accused of Sexual Assault By a Second Actress
"I believe you Kristina Cohen and thank you for speaking up so eloquently," former actress Aurélie Wynn wrote in a Facebook post detailing the alleged rape.
---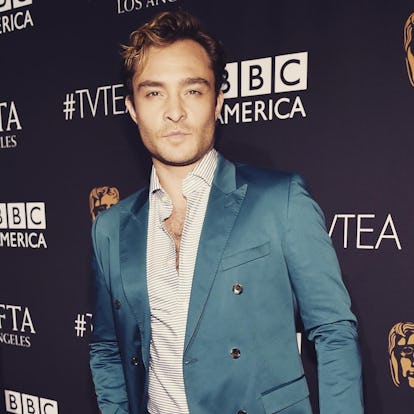 @edwestwick
Two days after actress Kristina Cohen wrote a Facebook post alleging Gossip Girl actor Ed Westwick raped her three years ago, another woman has come forward with a similar accusation. Former actress Aurélie Wynn, who performed under the name Aurelie Marie Cao, posted her account on Facebook Wednesday, detailing an alleged assault by Westwick three years ago.
It was July 2014, Wynn wrote, and a woman who was dating Westwick's then-roommate, an actor on Glee, invited her to a house Westwick was renting. "We all hung out until 5am," Wynn recalled, and then they dispersed to various bedrooms "to get a few hours of shut eye since we all had events and things to do the next day." According to her Facebook post, she, like Cohen, told Westwick "no," and nevertheless, he held her down and prevented her from escaping as he assaulted her. "I was wearing a one piece bathing suit that he ripped, I was in complete shock, I am also very tiny," she wrote.
After the alleged assault, Wynn wrote she discovered the woman who had invited her had left the house—"or got kicked out," she added. Wynn documented her exit on her iPhone, taking a video of what she described as the "maze" of the house's corridors. A friend called her an Uber, and Wynn left the house "while Ed was passed out."
Wynn was dating former Glee actor Mark Salling at the time, and she wrote on Facebook that she told him about the alleged assault after it occurred. "When he found out by who he pretended not to know him, then blamed me for it and broke it off with me," Wynn wrote. (Salling pleaded guilty to child pornography charges last month and will be sentenced to up to seven years in prison for possession of child pornography.) She, like Cohen, said had been encouraged not to come forward with her accusation; those around her told her she would be dismissed or disbelieved and that it would be best "to not be 'that girl,'" she wrote. (Here, she echoed Cohen's account almost exactly: "I don't want to be 'that girl,'" Cohen recalled the man she was dating at the time telling her, discouraging her from making her accusations public or from pressing charges. Like the stories of Harvey Weinstein's victims, Cohen and Wynn's accounts are chillingly similar.)
She soon came to understand the prevalence of sexual misconduct in the entertainment industry, she wrote (and in all industries, as accusations have poured forth not only in Hollywood but also in media and art, for example, in the wake of the New York Times and New Yorker stories outing mogul Harvey Weinstein as an alleged serial abuser), and as a result, she eventually decided not to pursue a career in acting. "I didn't see it getting better," she wrote.
"I believe you Kristina Cohen and thank you for speaking up so eloquently," she wrote, crediting her willingness to come forward with her own account to Cohen. "Without you I would not have had the strength to speak up publicly about my ordeal." She concluded with #metoo, the viral hashtag that women—and some men—had used on social media to tell their own stories of sexual harassment and assault, especially in the workplace.
Cohen posted her own story on Facebook Monday, explaining she had been encouraged by the volume of women speaking out about Weinstein and other accused abusers. Westwick denied the claims in a statement on his Twitter and Instagram later that day; Cohen also made a statement to the Los Angeles Police Department, as the Los Angeles Times noted Tuesday, and the LAPD has opened an investigation. After Wynn made her accusations public Wednesday, Westwick posted a subsequent denial to his social media accounts, writing, "I am cooperating with the authorities so that they can clear my name as soon as possible."
Related: Model Edie Campbell Urges the Fashion Industry to Finally "Be Honest" About Sexual Abuse
See What's Trending in W Video: