Call Me by Your Name's Armie Hammer and Timothée Chalamet Threw a Wild Italian Dance Party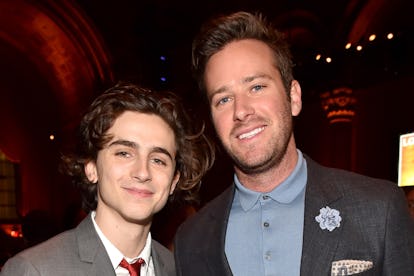 Kevin Mazur/Getty Images
No peaches were bruised in the making of this dance extravaganza.
Finishing their Call Me by Your Name press tour on a very fun note, Armie Hammer and Timothée Chalamet returned to the small city of Crema — where they filmed the coming-of-age drama — to invite fans to meet them in the city center and dance wildly. No strings attached. Just two handsome men, their dance moves, and a little bit of techno music. It's almost too good to be true! But how did we get to this moment of zen?
The Crema portion of the press tour started out quite poorly, to be honest. As Hammer chronicled on Twitter, a public screening of the film was attended by, we're not exaggerating, absolutely nobody — a mind-boggling prospect for this Best Picture frontrunner. "We came all the way to Crema for this screening and no one showed up," Hammer tweeted. "On a serious note: thank you to all the people who came from so far to enjoy the closing of this Call Me by Your Name circle."
However, we're pleased to report that the citizens of Crema soon got their act together when Hammer tweeted a cryptic message a few hours later. "Grow up, Crema … see you at midnight," he teased. "Anyone with speakers and booze get hugs." And thus, the dance event of the year occurred, in which the lucky attendees got to revel in the city center's impromptu dance floor while boogying down to the Call Me by Your Name soundtrack. Break it down, you handsome fellas! With special guest auteur Luca Guadagnino!
The groovin' and shakin' may have lasted only an hour, but for some, the memories will linger forever. "Just when I thought the Call Me by Your Name experience couldn't get any better, all of you who came tonight to see the film and celebrate this movie with us from all over the world proved me wrong," Hammer tweeted afterward. "Thank you from the bottom of my heart."
Hey, there's always the sequel for international dance party, round two.
Related: Timothée Chalamet Thinks 'Date' Is "Very Much a Scary Word"
Oscar Nominations 2018: See Photos of Mary J. Blige, Meryl Streep, Timothée Chalamet, and More Actors
Frances McDormand, Best Actress, Three Billboards Outside Ebbing, Missouri

The Neal Peters Collection
Octavia Spencer, Best Supporting Actress, The Shape of Water

Sorrenti Mario
Gary Oldman, Best Actor, Darkest Hour

Sorrenti Mario
Christopher Plummer, Best Supporting Actor, All the Money in the World

Sorrenti Mario
Denzel Washington, Best Actor, Roman J. Israel, Esq.

Teller Juergen
Meryl Streep, Best Actress, The Post

Thompson Michael
Richard Jenkins, Best Supporting Actor, The Shape of Water

Ari Marcopoulos
Sally Hawkins, Best Actress, The Shape of Water

Anna Bauer
Mary J. Blige, Best Supporting Actress, Mudbound

VAN LAMSWEERDE INEZ & MATADIN VINOODH
Margot Robbie, Best Actress, I, Tonya

CRAIG MCDEAN
Saoirse Ronan, Best Actress, Lady Bird

SORRENTI MARIO
Daniel Day-Lewis, Best Actor, Phantom Thread

TIM WALKER
Timothée Chalamet, Best Actor, Call Me By Your Name

Luca Khouri
Willem Dafoe, Best Supporting Actor, The Florida Project
Jordan Peele, Best Director, Best Original Screenplay and Best Picture, Get Out

©Universal/Courtesy Everett Collection
Allison Janney, Best Supporting Actress, I, Tonya

Courtesy Everett Collection
Daniel Kaluuya, Best Actor, Get Out

©Universal/Courtesy Everett Collection
Greta Gerwig, Best Director, Best Picture and Best Original Screenplay, Lady Bird

Everett Collection / Everett Collection