Yes, We Got More Stefon On Saturday Night Live
This. Appearance. Had. Everything.
---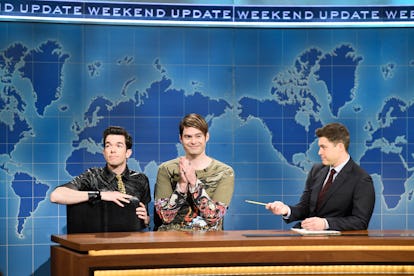 Photo by: Will Heath/NBC/NBCU Photo Bank via Getty Images
Bill Hader is a versatile actor, a compelling character-creator, and a damn good impressionist. His appearances on Saturday Night Live and in films like The Skeleton Twins and Trainwreck are unique and full of heart. But there's Hader's most iconic character has to be Stefon. (Vincent Price may be a close second, and I've always had a soft spot for his James Carville.) So, of course, when Hader hosted Saturday Night Live's St. Patrick's Day episode last night, he brought beloved New York City expert Stefon back to Weekend Update.
For those who don't know: Ed Hardy-clad "City Correspondent" Stefon is an New York City-based event planner that Weekend Update occasionally brings on to tell tourists how they can celebrate an upcoming holiday. He inevitably recommends something completely inappropriate in his signature whispery register, while tugging at his tattoo sleeves. During his appearances on Update, Stefon regularly flirted with former anchor Seth Meyers, and in one of his final appearances, the two got married!
Last night, Stefon recommended GALOOSH, a CVS-cum Chase Bank-cum-CVS with a "familiar yet troubling feel…like when Larry King plays himself in a movie." He also brought out his attorney Shy, played by John Mulaney, a former SNL writer who co-created Stefon with Hader during their time together at the show. He even borrowed the "A Closer Look" segment from Late Night With Seth Meyers but you guys, it's fine, they're married.
As per usual, Hader had a tough time keeping a straight face during the bit and hid behind his ringed hands when he needed to giggle. Obviously, he never learned the names of the new Update co-anchors (Colin Jost and Michael Che), and you really should check out the whole bit to see the nicknames he gives them. This appearance has everything:
Related: Saturday Night Live's Robert Mueller as the Bachelor Parody Is Cringey and Brilliant