Pritzker's Prize
A Hyatt Hotels scion goes heavy on the camp for his first resort venture.
---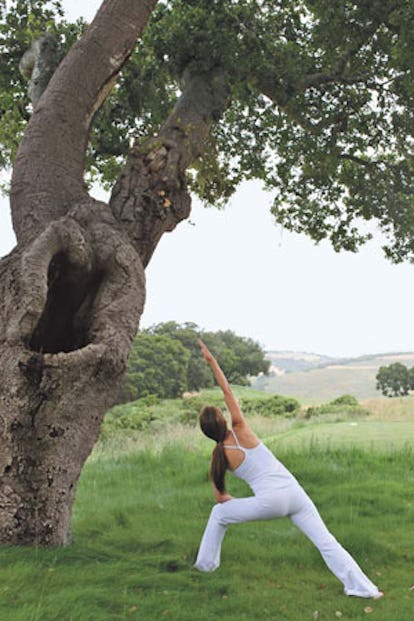 In recounting his childhood summers at Camp Horseshoe in Rhinelander, Wisconsin, John Pritzker has an impressively detailed memory. "Let's see…Pioneer, Woodsman, Forester, Guide, Ranger," he says softly, rattling off the names of the various cabins he inhabited there, his voice tinged with sentimentality. "I was a camper for six years. Then a counselor for two or three, which is much better since you get to do everything campers do, but you get paid and you get every other night off."
Forty years later, the son of Hyatt Hotels founder Jay Pritzker (and cousin to politico Penny Pritzker) is back at camp, or at least his own, grown-up version of it. Last summer his investment firm, Geolo Capital, purchased Carmel Valley Ranch, a 490-acre resort a few miles outside of Carmel, California. Tucked amid the foothills of the Santa Lucia mountains, the resort wasn't much more than a golf course surrounded by condominiums. While the condos will remain, Geolo has pumped more than $30 million into the property, creating a 139-room rustic country escape that seems worlds away from the urban hotels Pritzker grew up in.
Known as the only member of his family who actually knew how to check a guest into a hotel, the 57-year-old Pritzker joined the Hyatt company at 16, where his first task was painting the boiler room at the Hyatt Regency O'Hare. Evidently he did a decent job of it, and promotions from busboy to banquet manager ultimately led to the title of managing director and divisional vice president of Hyatt Hotels and Resorts, a position that he held for four years. In 1988 he left to pursue his own entrepreneurial ventures. Five years ago Pritzker and business partner Tom Gottlieb formed Geolo, which owns such entities as Western Athletic Clubs and ClubCorp; a year ago they decided to add a resort to their portfolio.
John Pritzker near the yoga pavilion.
So when Pritzker learned that Carmel Valley Ranch was for sale, he traveled the 120 miles from San Francisco (where he lives with his wife and raised his three sons) to check it out. "I remember thinking when I drove in, Oh, this is pretty. Then I kept driving through and thought, This is really nice. The next morning they took me on a hike and I kept saying, 'Is this part of the property? Is that part of the property?' And that's when it was obvious what we could do to the place."
What they did was install an 11,000- square-foot spa, a hilltop yoga platform, a two-acre organic garden (where guests can pick ingredients for their next meal), a five-acre lavender field and beehives (whose by-products will be used both in meals and spa treatments). They also planted a vineyard and will eventually use the grapes to make wine. Symbols of camp life are scattered throughout the grounds—a rope swing hangs from an oak tree just outside the lobby; bonfire pits built for roasted-marshmallow-filled fireside talks dot the property; and a tree house is in the works. Cooking classes will be offered, and the resort staff includes a beekeeper, a bird expert and an astronomer. But the touch perhaps most reminiscent of Pritzker's childhood summers is the small box stationed on the desk in each room. Upon breaking the seal, a guest will find such goodies as a sprig of lavender, colored pencils, a bird whistle, a tree guide, a packet of seeds and a s'mores recipe typed on an index card.
Pritzker hopes the makeover, which will be unveiled late this summer, will impart to Carmel Valley Ranch visitors that same sense of wonder he felt at Horseshoe all those years ago. "It's summer camp," he says, "without the discipline."
Yoga: Amanda Marsalis; Pritzker: Hiroyo Kaneko