John Waters, Pencil Mustache and All, Is the New Face of Saint Laurent
The 74-year-old "pope of trash" follows in the footsteps of Lenny Kravitz and Keanu Reeves.
---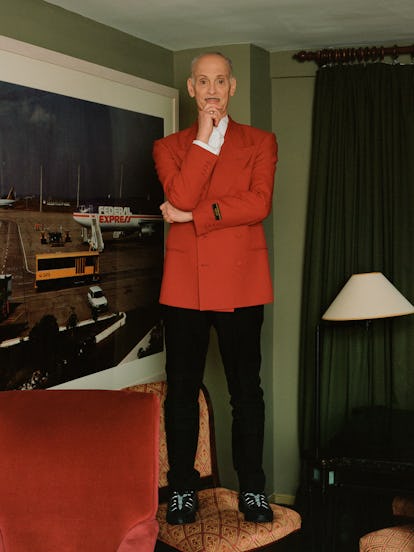 Photographed by Jeff Henrikson; Styled by Jenna Wojciechowski. Grooming by Jamal Scott using KKW Beauty; Photography assistant: Austin Perrotta.
John Waters has never received an invite to the Met Gala—even when the theme was as up his alley as last year's, camp. But the 74-year-old writer, director, all-around icon, and so-called "pope of trash" is still more than welcome in other corners of high fashion. On Wednesday, Saint Laurent announced that Waters was following in the footsteps of names as varied as Keanu Reeves, Finn Wolfhard, and Blackpink's Rosé as its latest face. Like Lenny Kravitz before him, Waters stars in the house's new fall 2020 menswear campaign, photographed by David Sims.
"Transgression is when you break the rules, and you make people laugh," Waters says in a video, also filmed by Sims. "It's really mind control."
There are some items, no doubt, that Waters told creative director Anthony Vaccarello were off-limits for his wardrobe: "I think there are some things you should be in prison for wearing, like pleated khakis," Waters told W earlier this year. "I don't think you should wear a T-shirt out of your house if you're 40 or over. Bruce Springsteen can get away with it. Most cannot." But Waters seems to have been just fine with the house's choice of a sleek black tuxedo jacket and polka-dot cravat.
It almost goes without saying that Waters is also pictured wearing his signature pencil mustache—a look that even Justin Bieber has emulated in the past.
Saint Laurent is a surprisingly conventional choice for Waters, who typically favors more avant-garde labels like Rei Kawakubo's Comme des Garçons. "I always say that my clothes never go out of style because they're never in style," he told W in February. As for his dream fashion purchase: "Maybe that Rei Kawakubo would design whatever I was going to be buried in. Something very comfortable … because I'm coming back. I need something to wear for the resurrection."