Jordyn Woods on Body Positivity, and Her New Size Inclusive Activewear Line
The designer opens up about creating a little something for everybody, with looks that can be worn at either the gym or the club, for her first activewear line.
---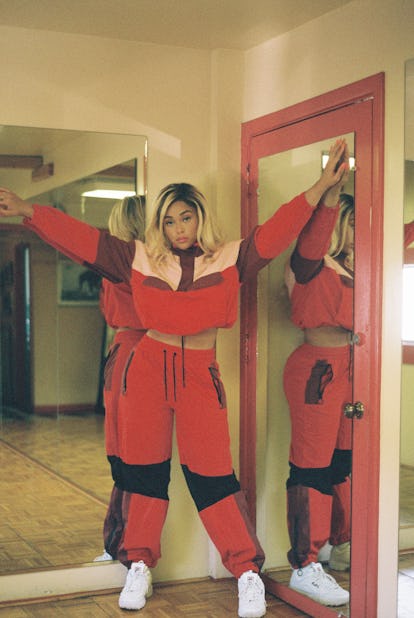 Amber Asaly
Jordyn Woods has participated in a few fashion collaborations in the past (and has one beauty collaboration with Kylie Cosmetics coming out soon), but now with her first solo project, the model is establishing herself as a designer with a body positive aesthetic.
Woods' SECNDNTURE activewear line is all about giving people options; you can wear these pieces to the gym, the club, or wherever else your heart desires.Woods developed a variety of pieces—from windbreakers and bike shorts, to sports bras and leggings—in a handful of fall colors, with the intention to create a little something for everybody, no matter their size. The designer spoke to W about where she gets her fashion inspiration, her thoughts on going blonde with her best friend and roommate, Kylie Jenner, and why you should always try to find an opaque pair of leggings to wear when working out.
What made you decide to call your brand SECNDNTURE and what inspired you to start with a line of activewear?
I created the idea for the name a long time ago, and just wrote it in my notes. I knew I wanted to use it for something in the future I just didn't know what it was. I feel like everything so far in my career that I've worked on has been very organic to me, and around the beginning of last year I was just going through a lot emotionally. I lost my dad, and a lot of things happened, and I turned to working out as my therapy. So it became a mental thing for me, and there were just so many positives to working out which includes physical health as well as mental health, and as I was working out I realized, people would always say, "What do you work out in?" There was kind of a need for a stylish activewear line, and because I was working out at the time I was like, "You know what? I might as well make my own." I've done enough clothing collaborations and I love designing so I felt like this was the perfect project and the most useful for me to take on. The name fit perfectly because I feel like when something is "second nature" it means it comes natural to you, and your activewear should always come natural to you. It all kind of fell into place.
What does size-inclusivity and body positivity mean to you, and how do those concepts fit into the ethos of your collection?
Growing up, I like to say I was a tomboy because it was partially maybe because I had brothers and stuff, but also it was hard for me, being a bigger girl, to find cute clothing like everyone else. So I gravitated towards wearing my brothers' big shirts and my dad's big shirts, and dressing like that. It was always difficult to go to the mall because I wanted to dress like everybody else and go to Abercrombie & Fitch and Hollister, but I knew there wasn't much of a selection for me. Struggling with that when I was younger showed me that there are also people struggling with that right now currently. Especially with social media, people want to be on trend but it's hard if there's not a huge selection out there for you. So that was important to me, and two, I feel like body positivity is really just loving yourself and wanting to be the best version of you that you can be regardless of what you look like. It's about loving the body that you're given and your individuality is your greatest gift because no one is you. It was important for me to create a variety of different options for people as well as a nice size range.
Some pieces are on the baggier side, like windbreakers and sweatpants, and there are also some more restrictive or supportive pieces like sports bras and the corsets. How'd you decide to incorporate the corset look into your collection?
I like to work out with sweat bands, and it keeps your core tight which helps maximize the workout as well as just keeps everything heated up. So, I figured, why not kill two birds with one stone? Let's create a pant with that actually built into it. So that was my inspiration for the corset-type pants. It's more beneficial when you're working out. And we have fun track suits, the color palette was really fun for me to choose, and we have the sports bras. They're more fun and cute and you can really wear them at any time! You can wear them under clothes, or over. Whatever you wanna do with it, that's what I love about this collection, is that there are so many options and so many different things you can do with it. It doesn't have to just be worn in the gym, it can be worn at the club or at dinner or at lunch, out and about. Nowadays it's so normal to wear sweats or comfy clothes out. That's partially what I love about it, is that it can be worn not only to work out.
How'd you choose the color palettes?
We've been designing this for a minute. Normally, I like to wear black, but I figured it was summer and I wanted something that stood out and was fun. So I feel like the color palettes are good for end of summer, beginning of fall, and I really was just on Pinterest and different mood boards, and drawing inspiration, screenshotting colors that I like. Throwing in fabrics to match, and incorporating it all together.
What's your ideal exercise outfit?
I would say a really good pair of leggings. It was really important for me to make sure the leggings aren't see through, because I've been in the gym before and they've been like, "You know, your leggings are see through." And that's actually very embarrassing! So I wanted to make sure I could make a good legging as well as a supportive sports bra. Those are my two main things for working out.
Where do you get the majority of your personal style inspiration from at the moment?
It's very difficult to say because there are so many people in the world that I find inspiration from! Whether it's on Instagram, someone walking on the street, or a celebrity. But mainly, I like to find my style inspiration from the past. They say history always repeats itself and I pulled a lot of inspiration from the '90s and '80s and 70s. I don't know if I was born in the wrong decade or something, but I really gravitate towards that era.
You can see that these looks definitely seem like they could've been relevant in previous decades, especially with the color blocking you've incorporated into the tracksuits.
Yeah and everything is so oversaturated now in the market, but mainly I just wanted to have fun with it! As well as create something that's for everyone. It's really fun and exciting for me to create a product. This is my first solo project that I've really done. I've done a million collaborations, but this is my first one, and I have a great team and it just seems natural to me, no pun intended.
You recently you dyed your hair blonde; were you inspired by Kylie to make that choice?
Well, I wouldn't say I dyed it! It's just a wig. [Laughs.] But when I first signed to my modeling agency when I was 18, I was blonde for those two years. I feel like a lot of people liked to book me blonde, and I liked being blonde, but it's too high maintenance for me! Right now I have black hair, but I love that I can alter my whole aesthetic and appearance just by putting on a wig that I can put on and take off, and not actually damage my real hair. I think Kylie looks great as a blonde! I used to be blonde, but, you know, I switch it out all the time!
Would you ever consider making clothes for kids or babies like Stormi? Or expanding the brand to include menswear?
Yeah definitely, I think that there's a demand for clothing for all types of people! I would say my line is a "women's line" but anyone who wants to wear it can. I have an eleven year old sister, and she's definitely going to be wearing the clothes from my line, as well as a bunch of people. I want to make things for everyone! Why not? I think it would be fun. I think it's easiest with women's wear, so I'm going to start there, but of course we're going to keep growing and expanding, and hopefully there's stuff for everyone!
What's next for you? Any collaborations on the horizon?
I'm doing the solo stuff right now until we get the company off the ground. You know, when you're starting your own company you learn as you go, and I think there's a lot of stuff for me to figure out before I branch out into that, but I definitely am not going to limit myself into just doing solo projects. I think the more people, the better, and the more creativity. I mean, why not? I would definitely love to collaborate with people in the future.
Related: Kylie Jenner Announces Adidas Deal, Bringing Peace to Kardashian Family