Kylie Jenner Announces Adidas Deal, Bringing Peace to Kardashian Family
Adidas now has a monopoly on the Kardashian-Jenners.
---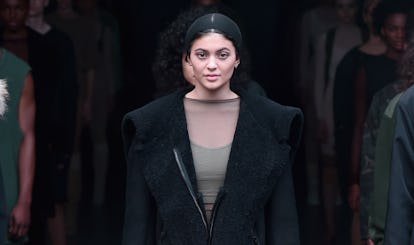 Theo Wargo/Getty Images for Adidas
The Kardashian-Jenners can rest well tonight: Kylie Jenner has just smoothed over a long-running point of contention in the family, ever since she fronted Puma's spring 2016 campaign. Two years later, all has come full circle with Jenner coming over to Adidas, where she's joining her brother-in-law, Yeezy designer Kanye West, and her sister, brand ambassador Kendall Jenner.
The freshly turned 21-year-old shared the news today that she has just inked a deal with Adidas, bringing peace to the rest of her family. "So excited to announce that I am officially an #adidas_Ambassador #createdwithadidas @adidasoriginals," she wrote on Instagram Stories, where she shared the brand's Falcon sneaker, which she will be modeling.
Jenner has already stepped out in the shoe, though, as she quietly posted photos wearing it and another Adidas design a few days ago. "Chillin in my @fashionnova," she coyly captioned the photo.
This partnership isn't Jenner's first time working for Adidas. Back in February 2015, Jenner was transformed at the hands of West for his debut Yeezy presentation. She and Kendall appeared in the next season as well, when they were even more unrecognizable.
Soon after that she worked out a deal with Puma, much to the dismay of West. At the time, he tweeted, "1000% there will never be a Kylie Puma anything. That's on my family! 1000% Kylie is on Yeezy team!!!." He also tried to cancel the deal on behalf of Jenner, tweeting, "Puma we gone give you your measly million dollars back!!!. Never try to divide the family!!!" Afterward, West addressed his frustration with TMZ, revealing, "[Kylie] had already signed and I was mad for a little bit. I'm really happy for her though."
As for Adidas, the brand hyped up their collaboration with Jenner, saying in a statement, "As a life-long fan of the brand, Kylie embodies the bold spirit of Falcon and we are pleased to announce her as the face of the campaign." What they didn't say is that the whole Kylie and Kanye sportswear company drama hits home for the brand as well.
Perhaps it's a little known fact that Adidas and Puma were started by rival brothers, Adolf and Rudolf Dassler, respectively. Even though both brothers passed away in the '70s, that rivalry clearly lives on today. With Adidas acquiring the Kardashian-Jenner family now, however, there's one less historical family feud to keep track of.