Supermodel Jourdan Dunn Is a Big Fan of the Athleisure Trend
The model and newly minted fashion designer talks her new collection for Missguided and why Rihanna has the ultimate style.
---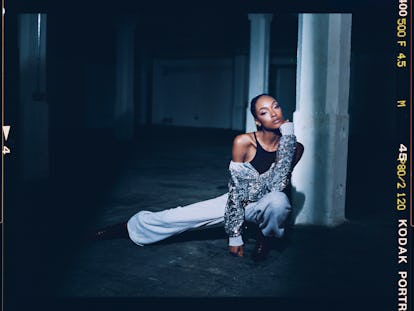 Jourdan Dunn has dominated the modeling scene for over a decade. Among the hits on her impressive resume: three-time British Fashion Awards "Model of the Year" award winner, three stints on the Victoria's Secret Fashion Show runway, and countless magazine covers. Beyond the catwalk, Dunn has dabbled in acting, playing herself in Zoolander 2 and Absolutely Fabulous: The Movie, as well as making an appearance in a Beyonce video. Now, Dunn is officially entering triple threat territory with LONDUNN + MISSGUIDED, a fashion line the model designed for high-street fashion brand Missguided. As creative director of the new collection, Dunn designed 96 pieces all-inspired by the athleisure aesthetic beloved by models off-duty worldwide. Here, Dunn talks fashion design, women empowerment, and her style inspirations.
What is your favorite part about designing?
Trusting my own instincts, speaking up with my own ideas, and not just sitting back and letting someone else put my name to a brand without having my own input. I want girls to feel confident and comfortable, and everything else will fall in to place. Even if you are just wearing an oversized t-shirt or sweat pants, I want you to feel that you are awesome and sexy and can face your day head on.
What do you love most about the athleisure trend?
The pieces serve as statement daywear that can move easily from day to night. With women living such busy lives, I wanted this collection to be a range of pieces that you could easily mix no matter what was on the agenda, and athleisure items fulfill that need.
Who do you think has great style?
I really love trend setters like Rihanna, who are fearless and are risk takers, and also Victoria Beckham, who is seriously chic. I even get inspiration from women on the street; I love people watching and seeing the trends come to life, while making their own statement.
Jourdan Dunn has always loved Victoria Beckham's style:
What's the best piece of style advice you've ever been given?
It's all about striking a balance. The balance of fabrics and textures, and shape is extremely important.
What is the last thing you purchased?
I can't remember but funnily enough, I can always remember my first big designer purchase, when I was 19, which was a piece of Gucci hand luggage.
What is the most prized possession in your closet?
Yeezy Red Octobers or these lace up leather pants by Rodarte. Once I saw the pants on the runway and in the campaign, I just had to have them.
What is your everyday uniform?
If I am dressing for everyday and enjoying some down time or relaxing with my son, then my look is street chic and sports luxe. I love the satin joggers from the collection. I normally go for more dark tones, but we designed a grey that I love and looks very luxe. The fleece double high waisted skirt is also another day-to-day favorite.
Revisit Jourdan Dunn's Model Moments
What is your favorite red carpet look you've worn recently?
Anything that accentuates my legs. I love to feel sexy and confident
The theme of these ads are women empowerment: who or what empowers you?
I want women to feel confident, effortless, determined… Just feeling good even if they are doing something simple like food shopping or going to pick their child up from school, attending a work appointment or meeting friends for drinks or dinner. This was a key reason I wanted to led my own casting for our MISSGUIDED collaboration. I really wanted to to create my own girl squad of girls who look great but also have an opinion and who aren't afraid to be heard. Whether this is through social media, modeling, dance, creative direction or photography, art, writing – whatever. I love my girl squad and I want this collection to be accessible to all women.
Which women do you look up to?
My mother is a huge inspiration, I have a very strong support system in my mum and she also helps with my son, Riley. It would be impossible without her! Thankfully, I'm in a position where I can work on my career and I do this so I can provide for my son and educate him well. I really look up to all women who are balancing both professional and personal commitments. Karlie Kloss also really inspires me, her return to school and learning all whilst being a top model, is really awesome.
How to Instagram Like Jourdan Dunn