Judy Blume's Are You There God? It's Me, Margaret. Will Finally Make It to the Big Screen
Judy Blume has finally granted permission for the classic 1970 coming-of-age novel to be turned into a film.
---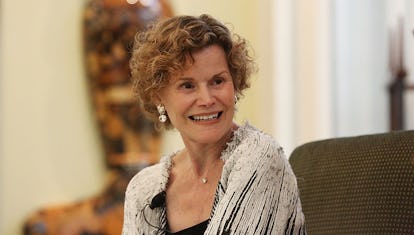 Aaron Davidson/Getty Images
Judy Blume made a splash in 1970 when she published her third novel, Are You There God? It's Me, Margaret., a story about a sixth-grade girl named Margaret who handles the ups and downs of adolescence while growing up in an interfaith household as her family moves from New York to the suburbs of New Jersey. The often-banned book doubled as a manual that guided young women through adolescent changes and puberty and consistently ranks high on must-read fiction lists decade after decade.
Of course, along with the continued success of her book for the last five decades came the bids to spin the coming-of-age tale into a film, but Judy Blume turned many offers down. Now, the author—who has published at least 15 other novels for people of all ages, covering topics that range from divorce to survivor's guilt—is granting the rights to adapt Are You There God? It's Me, Margaret. into a movie for the big screen. Per reports from Deadline, producer James L. Brooks and writer-director Kelly Fremon Craig have scored the rights to the film, which will be produced by Brooks's company Gracie Films.
Fremon Craig has directed just one film in her career: The Edge of Seventeen, the Hailee Steinfeld coming-of-age vehicle that scored the actress a Golden Globe nomination. The director called reading Are You There God? It's Me, Margaret. a "rite of passage for women and girls," and adapting it for the screen could serve the same purpose for young audiences. "It's rare for me to run into a woman or girl who hasn't read it, and every time I've mentioned it to a woman, they clutch their heart and let out this joyful gasp," Fremon Craig told Deadline. "There's something so timely and full of truth and I remember for me that at that age, it felt like a life raft at a time when you're lost and searching and unsure. This book comes along and tells you you're not alone. Women remember where they were when they read it. I can't think of another book you can say that about," she continued.
In August, Blume tweeted that she felt "the time has come" to consider adapting some of her books into films, before promising to let her fans know the moment she decided to officially make any deals with producers.
No production dates or cast have been assigned to the film adaptation of Are You There God? It's Me, Margaret. yet, but Judy Blume herself will probably let you know what she approves.
Related: Hollywood Has Found Its Zola For the Viral Story Turned Movie