The Zola Viral Story Turned Movie's Hollywood Cast Features Taylour Paige, Riley Keough
The cast of the viral Twitter thread that was turned into a film is a good blend of newcomers and indie favorites.
---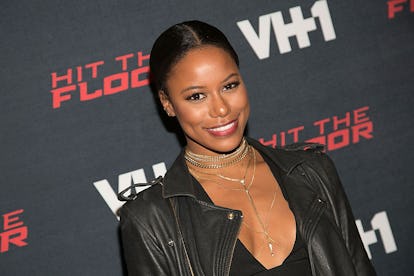 Gabriel Olsen/Getty Images
In late 2015, the Internet went wild for a Twitter thread chronicling the hilarious, harrowing weekend adventure of an exotic dancer, a sex worker, and a pimp in Florida. Aziah Wells, the aforementioned dancer, was 20 years old at the time, though she went by another name: Zola. A quick refresher on Wells's viral tweets (about 150 of them) detailing her so-crazy-it-must-be-true trip to Florida, in case you forgot: Zola, a waitress at Hooters, was convinced by a customer named Jessica to take a quick trip to Florida to make some money, and chaos, of course, ensues.
Wells's story changed the game for Twitter-thread storytelling, and soon after, Rolling Stone published an exclusive interview with Zola herself, explaining the details behind what came to be known as #TheStory. It was later reported that James Franco had purchased the rights to the story behind her tweets, with plans to adapt #TheStory into a full-fledged film. Then indie distributor A24 grabbed hold, and eventually Janicza Bravo (who has directed episodes of Atlanta and Love, and will star on HBO's upcoming dramedy Camping) was asked to direct the screenplay, written by Jeremy O. Harris, Andrew Neel, and Mike Roberts, and adapted from that Rolling Stone piece.
On October 9, The Hollywood Reporter announced that Zola had found its titular star. The actress Taylour Paige—who has appeared in High School Musical 3, Ballers, Grey's Anatomy, and White Boy Rick—will star as Zola. The 27-year-old actress got her start as a ballet dancer, and was a Los Angeles Laker Girl in 2010 before jumping fully into her acting career. Her experience as a Laker Girl landed her a spot as a series regular on VH1's Hit the Floor, a drama series about the dancers for a fictionalized Los Angeles basketball team, alongside Dear White People's Logan Browning.
Apparently, the film's director and A24 could not be more excited with the casting. "I'm at a coffee shop in L.A. and in walks this girl," Bravo recalled to the Reporter. "I'm entranced and can't stop staring. It's the way she sits in her body. It's agency. It's self-possession…everything that drew me to telling this story. One year later she auditions and I knew instantly like I knew it then. After seeing 700 girls, the one meant to be finally walked in," she continued. Execs from A24 echoed Bravo, saying, "Zola is an iconic, iconoclastic role, and Taylour and Janicza are exactly the people to bring the character to life. We're thrilled to be working with them on this too-real-to-be-true saga, a defining and legendary entry in the deeply American road trip genre."
The "real" Zola even offered her approval, Instagramming a screenshot of THR's casting announcement, and captioning it, "Twinning!"
This saga would not be complete without the supporting work of Riley Keough, who will play Jessica, the sex worker who strings Zola along on an insane road trip, per reports from Collider. The outlet also reports that If Beale Street Could Talk's Colman Domingo will play the pimp, and Succession's Nicholas Braun might play Jessica's boyfriend. Production for the film is reportedly scheduled to begin this fall.
Related: Riley Keough's Late-Night Look Is Either Head-to-Toe Louis Vuitton or Pajamas