Julia Louis-Dreyfus Has Been Diagnosed with Breast Cancer
The actress selflessly turned the announcement into a clarion call for universal healthcare.
---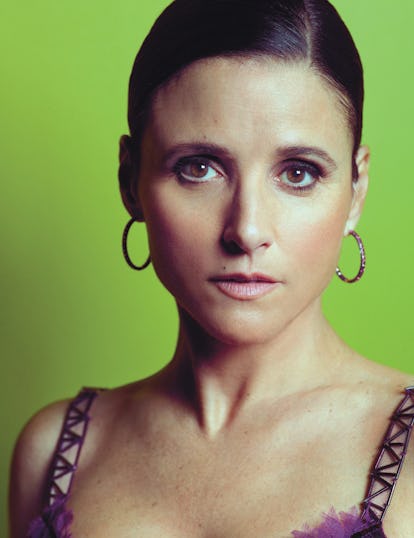 Photographs by Mario Sorrenti, Styled by Edward Enninful.
Less than two weeks ago, Julia Louis-Dreyfus broke records when she won her sixth Emmy Award as the lead on the HBO series Veep, the most any actor has received for the same role. The very next day, though, the actress also got the news that she'd become one of the one in eight women who are diagnosed with breast cancer, as she announced on Twitter this afternoon.
"Today, I'm the one," the actress wrote in what she managed to turn into a hopeful statement. "The good news is that I have the most glorious group of supportive and caring family and friends, and fantastic insurance through my union."
But Louis-Dreyfus also took care to make a clarion call for support for those who aren't so fortunate—one that's particularly needed when the Graham-Cassidy bill is still on everyone's minds. "The bad news is that not all women are so lucky, so let's fight all cancers and make universal health care a reality," she continued.
Louis-Dreyfus, 56, is not the first high-profile celebrity to be diagnosed with breast cancer: Gloria Steinem, Sheryl Crow, Cynthia Nixon, Maggie Smith, Kylie Minogue, Giuliana Rancic, and Kathy Bates have all contended with the disease in recent years, too, which serves to underline its tragic prevalence. In fact, as Stella McCartney reminded in a new awareness campaign just this week, a woman around the world is diagnosed with breast cancer every 19 seconds.
It already looks like Louis-Dreyfus is indeed lucky; within an hour of posting the news, she's received nearly 5,000 comments of support on Instagram, fans offering to "become [her] blood bag to ensure she lives forever," fellow celebrities offering their well wishes, and, of course, the support of her tirelessly caring costar on Veep, Tony Hale, who tweeted what everyone seems to be thinking: "We love this woman."
Related: Julia Louis-Dreyfus Flawlessly Took Down Donald Trump in Her SAG Awards Acceptance Speech
Julia Louis-Dreyfus's Favorite Birthday Involved Bowling in a "Groovy Vest":