Julia Louis-Dreyfus Is Getting Through Chemo with the Help of Katy Perry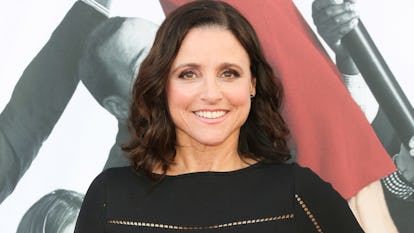 Paul Archuleta/FilmMagic/Getty Images
Julia Louis-Dreyfus is battling breast cancer with the help of her friends, and a little inspirational music courtesy of Katy Perry.
"Chemo #2: finito. We are NOT fucking around here," Louis-Dreyfus wrote under an Instagram selfie featuring the Veep star in a hoodie and fake mustache. "'I've got the eye of the tiger. The Fighter dancing through the fire cuz I am a champion and your're going to hear me ROAR.' Thanks to @mrtonyhale & @timothycsimons & @katyperry for their hilarious and loving inspiration."
Louis-Dreyfus first announced her breast cancer diagnosis in late September. "1 in 8 women get breast cancer," she wrote on Twitter. "Today, I'm the one. The good news is that I have the most glorious group of supportive and caring family and friends, and fantastic insurance through my union."
And the actress has been using her experience with the disease to advocate for other women right from the start. She included a message about the importance of health care access in her announcement, writing, "The bad news is that not all women are so lucky, so let's fight all cancers and make universal health care a reality."
Her announcement prompted an outpouring of well wishes and support from some famous friends and fans. Hillary Clinton reached out to wish her well and thank her for using her platform to promote universal health care. She wrote, "Julia, you're in our thoughts and our hearts. Inspired but not surprised to see you using your platform for good in this difficult moment." Former VP Joe Biden also tweeted out a sweet message of support, sharing a photo of the two together and writing, "We Veeps stick together. Jill and I, and all of the Bidens, are with you, Julia."
As Louis-Dreyfus continues to fight, there are plenty more Katy Perry anthems, and supportive friends, to help her through.
Watch: Julia Louis-Dreyfus On Why Elaine Never Had Her Own 'Seinfeld' Spin-Off