Julia Roberts and Emma Stone Are Going to Creep You Out on Television This Fall
It's the season of "Maniac" vs. "Homecoming."
---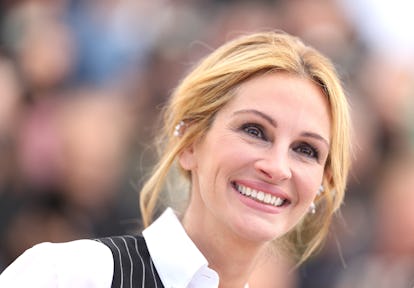 Pascal Le Segretain/Getty Images
Emma Stone and Julia Roberts: You basically know them. They're your Hollywood friends. America's sweethearts. Both broke through in comedies playing characters whose tarnished reputations belied a heart of gold, and since then they've favored characters who always seem to be speaking truth to power or getting involved in highly relatable relationship hijinks, sometimes even both in the same film. You love them so much that they've both been Hollywood's highest-paid actress at one point or another. Hollywood loves them so much they've both won an Oscar. They're definitive and unquestionable fixtures of the A-list.
So it is a wonderful coincidence that both are coming to television in their first regular roles this fall: Stone in Netflix's Maniac and Roberts in Amazon's Homecoming. It is also a lovely coincidence that the first full trailers for each of those shows premiered today.
It is probably not a coincidence, however, that each of these shows seems to position the actresses in ways we haven't quite seen them before. Don't expect any rom-com-worthy guffaws or stories of inspiring triumphs over adversity or injustice here. Just expect to have your mind twisted.
The trailer for Homecoming, for example, starts by presenting the possibility that Roberts's character has killed her fish, or, at the very least, let them die (not figurative but actual fish, though it sure does seem to mean something). Directed by the Mr. Robot creator Sam Esmail and based on a popular podcast, the show finds Roberts playing a woman who used to be a caseworker who helped soldiers as they returned from war. She leaves that job for unknown reasons, and takes up a new life as a small-town waitress only to have her past pop up again in the form of a Department of Defense auditor.
There's obviously more to the story, but Roberts's character isn't quite sure yet. "You ever forgotten something?" she asks in the trailer. "Something big?"
There are various shots of laboratories, foot chases, and, of course, a dead fish, to up the intrigue. We're not sure where this is all leading, but we don't think anything less than a stellar script would lead Roberts to the small screen in the first place.
Then there's Stone's Maniac, in which she costars with Jonah Hill. Directed by Cary Fukunaga, this trailer is equally cryptic and creepy. Stone plays a chronically depressed woman who seems to meet Hill's character, a diagnosed schizophrenic, at some sort of clinic. The trailer gives us a little bit more information than Homecoming's, even if we're still somewhat confused: Hill and Stone undergo an experimental treatment that leaves them forever connected to each other even as they seem to travel through worlds and times (at least in their heads). At least no fish were harmed, as far as we can tell.
We've noted before that it's almost expected for living winners of the Academy Award for best actress to wind up on television much more often their male peers, and it's a trend that cemented itself even before Nicole Kidman and Reese Witherspoon teamed up for Big Little Lies. Those actresses also, more often than not, have chosen to go dark on television. Note that Sissy Spacek, fresh off a haunting turn in Castle Rock, appears in Homecoming alongside Roberts, while Sally Fields, also an Oscar winner, appears in Maniac.
Of course, even some our most celebrated and famous actresses have talked about how hard it is to find challenging and interesting roles for themselves in film, so it's perhaps no surprise that when those opportunities arrive on the small screen they're more than ready to take them.