Julia Roberts Joins Instagram, Bringing More Sunshine to Your Feed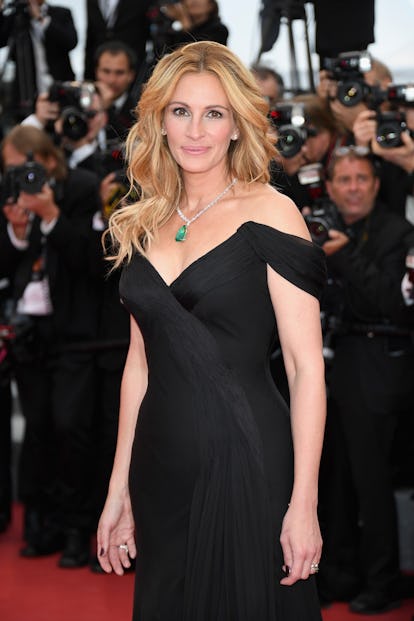 Photo courtesy of Getty Images.
As one of the most recognizable (and beloved) names in Hollywood, Julia Roberts has paved her own career without giving any concessions to anyone else. Despite being in demand, she's taken on one to two projects a year over the past 15 years. During that time, she's also remained as private as she is selective — and, up until yesterday, she was one of the celebrity holdouts from social media.
Roberts has officially joined Instagram, bringing more sunshine to your feed. Her first post? A simple introduction. "Hello☀️," Roberts wrote in the caption of a photo of herself sitting under a tree while wearing a sweater emblazoned with "love" — something that social media and the world could use more of right now. Fittingly, Roberts, who once swore off social media, used just one word in her bio: "human."
A couple of years ago, when she was promoting the Jodie Foster-helmed Money Monster, which she co-starred in alongside George Clooney, Roberts told InStyle of social media, "Listen, I don't have my head in the sand. I'm aware of the different outlets, however you label them. It's like people talking about a TV show — I can be perfectly aware of the TV show and the story, but it doesn't mean I watch it. I have other friends who watch it, and they tell me about it. I mean, we were talking about Instagram. Everyone has Instagram on their phone. And I just, yeah, [if I had it] I would be looking at it all the time."
What will Roberts be looking at now? Nothing is on her feed as of this moment, as she's not following anyone else yet. Considering how relatively normal her life is these days, though — she spends most of her time raising her three kids in Malibu — perhaps she'll hit follow on accounts of people she's friends with in real life. She may be a star but she's just like anyone else, as she reminded Harper's Bazaar last year. "It's a thing of make-believe that I can't buy toilet paper, because of course I can."
One person who she's already followed from afar — from an anonymous account or not — is Busy Philipps, as she revealed to the social media star last fall. "You guys, I don't even know how to explain to you what just happened to me on the red carpet of the amfAR gala except that Julia Roberts came up to me and told me she's a fan of the Instagram stories," Philipps later recalled on Instagram stories. "Hey, you and the rest of America, Julia. Busy reacted about as calmly as anyone would expect, which is to say, not calmly at all. "You guys, Julia Roberts! I like couldn't take it. I started shaking and laughing maniacally like a crazy person." So if Roberts does show up on Philipps' notifications, this time she'll be more prepared.