Julia Roberts Shared a Rare Personal Photo With Her Husband, Danny Moder, and It Couldn't Be Any Sweeter
She shared a rare personal photo, and it couldn't be any sweeter.
---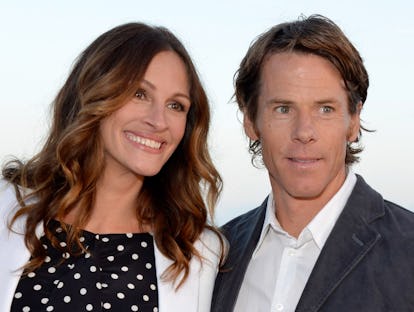 Lester Cohen/WireImage
Julia Roberts may still be getting the hang of social media—hey, who honestly isn't?—but she's already hit one milestone: making her relationship Instagram official. After 16 years of marriage to the cinematographer Danny Moder, Roberts has shared her first picture with him on her recently opened Instagram account.
"Oh Summer, thank you!" she wrote in the caption of the picture showing the pair embracing on the beach. "You made us happy and brave. We embraced every moment of sun drenched JOY ☀️ #familytime."
The personal photo is rare for Roberts, whose Instagram grid mostly consists of calls for activism, throwbacks, the occasional self-promotion, and birthday posts (her last one was to her Pretty Woman costar Richard Gere). It comes two months after the couple celebrated their 16th wedding anniversary, on July 4. They tied the knot back in 2002, at midnight on that very day, at her New Mexico ranch. Notably, as Entertainment Weekly reported at the time, Roberts wore a gown by the designer Judith Deylerian that was the same pink hue as the tulle skirt in her recent photo. It was such a low-key affair, with flowers she picked herself and groceries she bought the day before, that Roberts allegedly weed-whacked around the property, People noted. Consider it one more reason to love her. (Another fun fact about their wedding: Bruce Willis sang "Hound Dog" and "Chain of Fools" at it.)
Roberts and Moder have since had three children: 13-year-old twins Hazel Patricia and Phinnaeus "Finn" Walter, and 11-year-old Daniel. Last year, Roberts opened up about how meeting Moder and starting a family with him changed her, saying, "I was my priority, a selfish little brat running around making films…. When I think about what makes my life my life, and makes sense and just shine inside of me, it's him. Everything has come from that for me." She also revealed: "There's comfort there, but also terror, which is a good combination. Terror because the person I want to impress most is looking right at me." Judging by the above photo, he's clearly impressed.